Samsung Debuts Galaxy Note7 With New S Pen, Gear VR Headset, and Gear 360 Camera
Samsung today hosted a media event in New York City, where it introduced the all-new Galaxy Note7 with an updated S Pen, a new Gear VR headset powered by Oculus, and the Gear 360 camera. All three products will be available in the United States on August 19, with pre-orders starting tomorrow.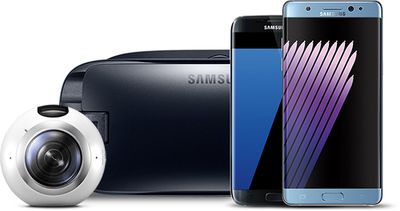 The 5.7-inch Galaxy Note7 adopts several design and hardware features of the Galaxy S7 and S7 edge, including a 2,560×1,440 Super AMOLED dual curved display, Qualcomm Snapdragon 820 quad-core 64-bit 14nm processor, 4GB of RAM, 12-megapixel Dual Pixel rear-facing camera, wireless charging, and IP68-rated waterproofing.
Additionally, the Galaxy Note7 features a built-in iris scanner for unlocking the smartphone with your eyes, 64GB of internal storage expandable up to 256GB with a microSD card, a larger 3,500mAh battery, 802.11ac Wi-Fi, Bluetooth 4.2 LE, NFC for contactless payments, and a USB-C connector. The device will run Android 6.0.1 Marshmallow out of the box, eventually followed by Android 7.0 Nougat.
Samsung complemented the new smartphone with an updated version of its S Pen. The stylus features new Air Command functions, including Magnify and Translate, that enable users to zoom in on the screen or convert languages with a simple hover gesture, along with double the pressure sensitivity and a smaller 0.7mm tip geared towards providing a more ballpoint pen-like experience.
The Galaxy Note7 in Blue Coral, Silver Titanium, and Black Onyx launches at AT&T, Verizon, Sprint, T-Mobile, and U.S. Cellular on August 19. Pricing will be similar to previous Note devices, amounting to around $750 to $800. The smartphone will also be available at Amazon, Best Buy, Car Toys, Sam's Club, Target, and select Walmart stores. An unlocked version will be released at a later date.
For a limited time, Samsung will gift customers who buy a Galaxy Note7 or Galaxy S7 edge with the choice of a free Gear Fit2 or 256GB memory card.
Outside of the United States, features may vary. The Galaxy Note7 will be powered by Samsung's Exynos processor outside of the United States, for example, while a gold version will be available in international markets.
A new line of accessories will be available alongside the smartphone, including the new Gear 360 camera, available online on August 19 for $349, that can be paired to record immersive 360-degree videos. A new S-View Standing Cover will be able to prop the device at a 60-degree angle for easy viewing of content, and a IP68-rated water resistant battery backpack accessory will provide on-the-go charging.
The Galaxy Note7 can also be used with Samsung's refreshed Gear VR headset, which now features a more comfortable design, larger and completely flat touchpad, dual USB-C and Micro USB compatibility, and a wider field of view. The headset will still cost $99, with pre-orders starting now ahead of an August 19 launch.