iPhone Rumored to Include Iris Scanning Capabilities Starting in 2018
Apple is working on iPhones with iris scanning capabilities that could debut in 2018, reports DigiTimes in a wider piece about increasing interest in advanced biometric functionality in smartphones.
Iris scanning would potentially be used in place of Touch ID as a way to verify a user's identity, performing functions like making payments and unlocking an iOS device. Each person's iris, or the circular colored muscle of the eye, contains a complex and random pattern that is unique to each individual.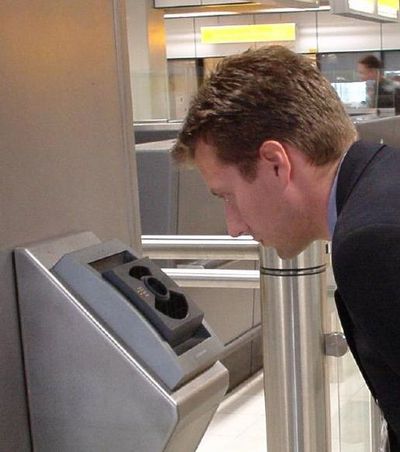 An iris recognition machine at the Schiphol Airport


Apple has been rumored to be looking into iris scanning in the past and it is a technology that is gaining interest in the smartphone arena. Samsung is said to be planning to debut its iris recognition technology as soon as next month with the introduction of the Galaxy Note 7.
Current iris scanning implementations have some notable benefits over Touch ID, including no need for direct contact to unlock a device and faster unlock speeds, but there are also drawbacks such as poor functionality in low lighting and issues with performance following alcohol consumption and eye surgery.
DigiTimes is not always a reliable source of information, so the rumor should be viewed with some skepticism until confirmed, but KGI Securities analyst Ming-Chi Kuo also believes Apple is planning on introducing new biometric features in a future iPhone, which could include either facial or iris scanning. Kuo's rumor pertained to the 2017 iPhone, but it's always possible such an advanced feature won't be ready to debut until a later date.
There are no rumors about the 2018 iPhone as of yet, but it will follow the 2017 iPhone, which is rumored to feature radical design changes in the form of an edge-to-edge OLED display with no home button and a camera and Touch ID sensor that are integrated into the screen. Wireless charging, a faster A11 processor, and a fully glass body like the iPhone 4 are also possibilities for the device and will likely also be seen in the follow-up 2018 iPhone.