First Photo of Apple's A10 Chip for iPhone 7 Appears With Mid-July Production Date
Less than one month before Apple is expected to announce the iPhone 7 and iPhone 7 Plus, Chinese repair shop GeekBar has shared the first photo of what appears to be the next-generation A10 chip destined for the smartphones on Weibo. The number of pins appears to be consistent with the A9 chip's 64-bit LPDDR4 interface.
While the photo could easily be faked, the chipset is labeled with a 1628 date code, corresponding with mid-July production. Additionally, GeekBar has accurately leaked components for unreleased Apple products in the past, including the iPhone 6s display assembly and iPhone 6 schematics showing a 128GB storage option.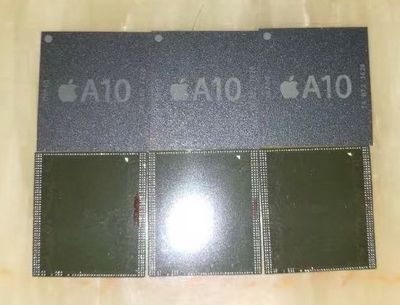 What is pictured here is not the complete A10 chip and may be the RAM layer that is stacked on top of the A10 wafer as one system-on-a-chip, rather than the processor itself. Apple A-series chips are typically labeled on all four edges, suggesting this chipset is in a mid-production state.
TSMC is expected to be the sole supplier of Apple's faster A10 chip based on its 16nm FinFET WLP process. The new processor should bring performance improvements to the iPhone 7 and iPhone 7 Plus. The smartphones are expected to be announced on September 7 and released on September 16.
Last year, TSMC-built A9 chips were found to outperform Samsung-built A9 chips in early iPhone 6s battery benchmarks, but subsequent tests showed less significant impacts that Apple later said amounted to only a 2-3% difference in "real world" battery life. Samsung is not expected to be an A10 chip supplier.