Revamped Apple Store iOS App With 'For You' Recommendations Now Live [Update: Hands-On Video Now Included]
As expected, Apple has just released its revamped Apple Store iOS app, bringing along a new "Discover" tab that takes into account each user's previous purchases so it can curate content from the company's online storefront in order to recommend what to buy next. The update for the Apple Store app introduces a universal functionality for both iPhone and iPad devices as well, along with a redesigned interface.
The newly redesigned Apple Store app is a more personal way to shop for the latest Apple products and accessories. Get recommendations based on the Apple products you already own. Find out which accessories are compatible with your devices. Easily upgrade to a new iPhone from your current one. Keep track of your orders wherever you go. And reserve a spot in an upcoming workshop or event.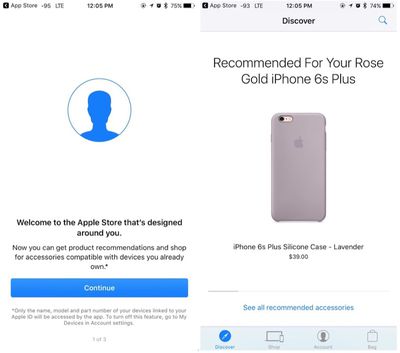 Word of the revamped app surfaced last week, with Apple seeking to leverage the success and user feedback from similar "For You" sections in its other services, like Apple Music and Apple News. Based on your previous activity, the Apple Store app will automatically go to work in putting forth purchase suggestions when users begin placing orders in the store.
- Get recommendations and shop for new products based on what works with the Apple devices you already own.
- Manage your Apple account at a glance with the updated, easy-to-use Account tab.
- Learn about helpful workshops and exciting events happening at your nearest Apple Store.
- Stay on top of your in-store activities. Find out when your order is ready for pickup and see what time your reservation starts.
- Scan a product at a participating Apple Store to get more information, make sure it's compatible, and buy it from your iPhone.
- Find out if a product you've added to Favorites is available when you visit a participating store.
You can download the new update for the Apple Store app from the iOS App Store for free. [Direct Link]
Update: We went hands-on with Apple's new Apple Store app to show off all the new features. Make sure to check out our video below.