Apple Pay Holdout Walmart Expands 'Walmart Pay' to 16 More States
Walmart has announced that its mobile payments solution Walmart Pay is now available in 16 additional U.S. states, including Alabama, Georgia, Indiana, Iowa, Kentucky, Louisiana, Michigan, Mississippi, Missouri, Nebraska, North Carolina, North Dakota, South Carolina, South Dakota, Tennessee, and Virginia. Washington, D.C. is also on board.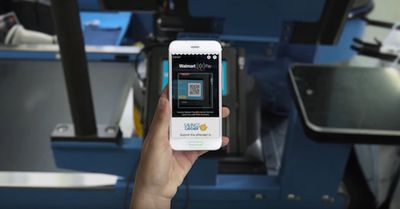 Walmart Pay is built into the Walmart app [Direct Link] for iOS and Android and works at any checkout lane with any major credit, debit, pre-paid, or Walmart gift card.
The payments solution is based upon a QR code checkout process that involves opening the Walmart app, selecting Walmart Pay, activating the camera, scanning the code displayed at the register, and waiting for the cashier to finish bagging your items. An electronic receipt is automatically sent to the app.
Walmart Pay's widespread adoption at some 1,500 stores in fifteen more states, following statewide launches in
Arkansas and Texas
last month, further suggests that Walmart will not be adopting Apple Pay for at least the foreseeable future. Walmart Pay's nationwide rollout is expected to be completed in 2016.
The word in late 2015 from Walmart senior vice president of services Daniel Eckert was that Walmart Pay allows "for integration of other mobile wallets in the future," providing at least some hope that the retailer may eventually accept rival payment services such as Apple Pay, Android Pay, and Samsung Pay at its stores.
Walmart is among a handful of retailers that have refused to support Apple Pay since its American launch in October 2014. The retailer was originally committed to the Merchant Customer Exchange (MCX) consortium and its now indefinitely postponed payments service CurrentC before launching Walmart Pay.
Walmart's resistance to Apple Pay persists even as other former holdouts such as Best Buy and Rite Aid have reversed course and begun accepting the iPhone-based payments service at their U.S. stores. Walmart rival Target, meanwhile, is developing a QR code-based mobile wallet solution of its own.
The Walmart app [Direct Link] is free on the App Store for iPhone and Apple Watch.