MCX Ends CurrentC Beta Test, Postpones All Further Releases
The Merchant Consortium Exchange, aka MCX, today told beta testers that it is suspending its CurrentC beta test on June 28 and postponing all further releases of the payments platform.
The news was delivered in an email sent to all Columbus, Ohio beta testers and shared by The Consumerist. On June 28, when the beta test ends, MCX plans to disable all active accounts and end customer access.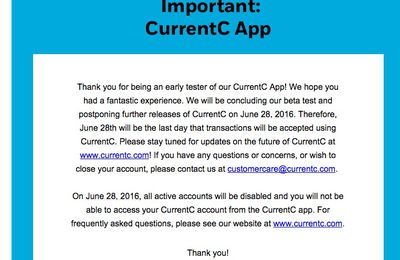 MCX has also announced the news on the CurrentC website, complete with an FAQ for customers that says MCX has "not yet determined the future timing of CurrentC" but will provide further details in the future addressing whether or not the project will be continuing.
Last month, MCX CEO Brian Mooney announced plans to postpone the rollout of the CurrentC payments platform following feedback from the beta test. At the same time, he said MCX would downscale and lay off 30 employees as part of an effort to transition from a consumer-facing product to building business partnerships with financial institutions.
MCX, a consortium of merchants like Walmart, Best Buy, CVS, Rite Aid, Target, Lowe's, and more, has been working on implementing the CurrentC platform since 2012. It was once believed CurrentC could be a major Apple Pay competitor given the number of retailers backing the effort, but interest appears to have fizzled out.
CurrentC required customers to open an app and scan a QR code to make a payment, a convoluted system described as offering minimal benefit to consumers. Its implementation was not as simple as Apple Pay or other payment options from Google and Samsung, which may explain why development did not move beyond a beta testing phase.
Many MCX members now accept Apple Pay despite some early resistance due to exclusivity agreements, and Walmart, one of the main CurrentC backers, has developed its own payments service and Apple Pay competitor called Walmart Pay.