Target Working on QR Code Mobile Wallet as Apple Pay Holdout Continues
Target is in early stages of developing its own mobile wallet solution that could launch as early as next year, according to Reuters. The fourth-largest U.S. retailer is leaning towards using QR code technology for the payments app, rather than NFC, enabling customers to purchase goods by scanning a code at checkout akin to Walmart Pay announced last week.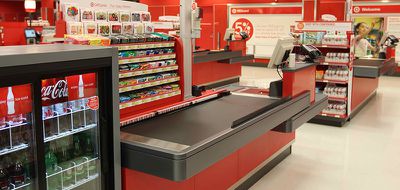 Target is working on a mobile wallet for use at checkout (Image: MADELINECOYNE)
The retailer reportedly plans to integrate the mobile wallet into its
existing app
available on iOS and Android, and will directly link customers' credit cards for payments. The wallet will likely support both Target's Red store credit and debit cards and ones from other issuers. Target does not currently accept any mobile wallets in it stores, but does support Apple Pay in its iPhone and iPad app.
Target's plans to launch its own mobile wallet raise questions about its commitment to rival payment platforms. A company spokesperson confirmed that Target remains an active member of the Merchant Customer Exchange, a consortium of retailers developing the payments system CurrentC, and the retailer is also exploring additional mobile wallet solutions, according to the report.
Target CEO Brian Cornell said in May that the retailer is "open-minded" about supporting Apple Pay or other payment services after upgrading its point-of-sale systems with chip-and-PIN card support, but the company has not announced any specific plans since. A few other MCX retailers including Best Buy and Rite Aid have already reversed course and started accepting Apple Pay this year.