watchOS 3: Bringing Attention Back to Apple's New 'Breathe' App
During the watchOS 3 segment of Apple's keynote presentation at the Worldwide Developer's Conference last week, Apple introduced a new mindfulness-based app called Breathe.
The idea behind Breathe is to help Apple Watch owners better manage everyday stress, and works by prompting users to take a short time out to focus their attention on the simple act of breathing.
By default, Breathe serves up a one-minute session which guides the user through seven breaths. The duration can be extended to up to five minutes by rotating the Digital Crown, while breathing can be slowed to four breaths per minute, or increased to ten per minute.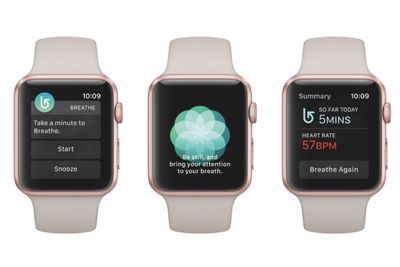 As the session begins, the app asks the user to "Be still, and bring your attention to your breath". A mandala-like series of concentric circles then begin to expand and contract on the watch screen as a visual guide for the user to adjust the rate of their breath.
What's not obvious from demos is that the app also makes use of the Apple Watch's haptic feedback, by initiating a delicate tapping rhythm on the wrist that begins fast and gradually fades at the top of each breath, as a subtle cue to exhale.
The use of haptic feedback also means the user can close their eyes as the session takes place, while the intensity of the feedback can be adjusted in the app settings.
When the session comes to an end, the user's recorded heart-rate during the session is shown, as is the total number of minutes that have been spent using the app that day. An option to retake the session and "Breathe again" also appears on screen.
The default setting for the app is to prompt a session every four hours, but prompts can be snoozed and their frequency can also be changed in the app's settings.
Additionally, a Breathe complication can be added to watch faces, allowing users to start a session with a simple tap whenever they choose.
During the Keynote, Apple did not cite any scientific evidence to back up its claims that bringing attention to the breath can help decrease stress and alleviate anxiety. However, research does exist to support the claim.
Breath-based meditation has been shown to reduce activity in the brain's "default mode network" (DMN), an area implicated in mind-wandering and the sense of self. Increased activity in this "resting state" network is known to be associated with conditions such as depression and anxiety.
Recent neuroimaging studies have also shown that daily meditation alters the functional and structural plasticity of the brain, and can increase cortical thickness in specific brain regions associated with attention-based tasks.
The Breathe app is part of watchOS 3, which will be released as a free upgrade this fall.