Possible iPhone 7 and 7 Plus Molds Confirm Camera Layouts, Lack Smart Connector
With the launch of the iPhone 7 and iPhone 7 Plus creeping closer, rumors about the two devices have been leaking out at a rapid pace, offering a lot of conflicting information that makes it difficult to narrow down the features that might be included.
Images of a set of molds and schematics said to be for the iPhone 7 and iPhone 7 Plus have surfaced on Chinese site Baidu and were shared by HDBlog, but as with all the alleged iPhone 7 renderings, schematics, and dummies floating around, the authenticity of the parts in the images cannot be confirmed.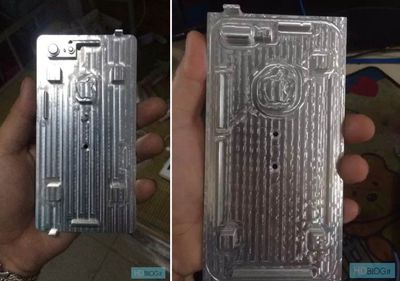 iPhone 7 mold on left, iPhone 7 Plus mold on right


According to the source on Baidu, the molds in the images are plates used during the finishing process of creating the aluminum casing for the devices. There are plates for both the iPhone 7 and the iPhone 7 Plus, confirming multiple rumors of a dual-lens camera for the larger-screened device and a single camera for the smaller device.
In line with past rumors, the iPhone 7 plate appears to depict a larger camera, perhaps to accommodate an improved sensor to boost image quality in the 4.7-inch iPhone. The 4.7-inch iPhone will not include dual cameras, but we expect Apple will introduce some significant single camera advancements to make up for the lack of dual cameras.

Schematics depicting design of iPhone 7 Plus mold


Not pictured on either plate is a Smart Connector, a feature the iPhone 7 has been rumored to be adopting from the iPad Pro. Early on in the rumor cycle, a device said to be the iPhone 7 Plus depicted a Smart Connector, and it was featured in design drawings and blueprints, but Japanese site Mac Otakara has said Apple eliminated the feature.
It's possible the Smart Connector is simply not included on the plates and that the holes are added at a later point in the manufacturing process. If a Smart Connector is indeed a feature coming in the iPhone 7, rumors indicate it will be limited to the larger iPhone 7 Plus.
Not visible on either plate is the speaker arrangement. Apple is said to be eliminating the headphone jack on the iPhone 7 and iPhone 7 Plus, with some rumors suggesting additional speakers could be added in its place. Some rumors suggested dual speakers were a possibility and a sketchy device image that surfaced over the weekend depicted a four speaker arrangement, but other rumors and evidence point towards the continued use of a single speaker.
Apple will likely introduce the iPhone 7 and the iPhone 7 Plus in September of 2016, which means there are several more months ahead in which the rumors we're hearing about the two devices will solidify so we can get a clearer picture of what to expect.