New iPhone 7 and 7 Plus Drawings: Dual Camera and Smart Connector Exclusive to 5.5-Inch Model
Less than four months before Apple is expected to announce the iPhone 7 and iPhone 7 Plus, which may have a "Pro" moniker instead, purported new blueprints of the smartphones have been shared by uSwitch on behalf of noted leaker Steve Hemmerstoffer, who runs the Twitter account OnLeaks.
The drawings, purportedly sourced directly from Taiwan-based Apple casing subcontractor Catcher Technology, seemingly confirm that Apple plans to remove the 3.5mm headphone jack on both the iPhone 7 and iPhone 7 Plus. Both smartphones will also retain protruding cameras, but without the metal ring around the lenses.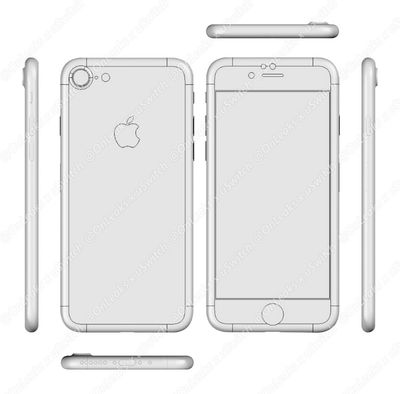 Meanwhile, the drawings show that Apple plans to add a dual-lens camera system and Smart Connector exclusively to the 5.5-inch iPhone 7 Plus, much to the chagrin of some customers that are hopeful Apple will not differentiate features beyond screen size. The 4.7-inch iPhone 7 will supposedly retain a single-lens camera.


The report also corroborates rumors claiming Apple will reposition the rear antenna bands along the top and bottom of its next iPhones, but the drawings also stifle stereo speaker rumors with only a single speaker grille shown on both the iPhone 7 and iPhone 7 Plus. Each smartphone retains a Lightning port and bottom microphone.
Both the iPhone 7 and iPhone 7 Plus look similar to the iPhone 6 and iPhone 6s series, suggesting that Apple will retain the same overall smartphone design beyond minor tweaks for three consecutive years. The report confirms the new iPhones will have identical dimensions as the current 4.7-inch and 5.5-inch models.
Recent rumors have been conflicting about which features Apple will reserve for the iPhone 7, iPhone 7 Plus, or OLED-based iPhone expected in 2017, but these drawings are mostly in line with expectations. The images were reportedly taken from Apple's January testing stage, however, so changes could arise.
Update: uSwitch and OnLeaks have teamed up to share a new 3D video that offers a closer look at the blueprints.