Alleged iPhone 7 Prototype Case Leak Shows Four Separate Speakers
In a curious twist on recent rumors about the upcoming iPhone 7, French language blog Nowhereelse.fr today posted a series of images purporting to show a prototype rear case for the next-gen iPhone featuring four separate speakers.
According to previous rumors, Apple could drop the headphone jack in the iPhone 7 and replace it with a second speaker that would potentially allow for the use of an additional audio amp provided by Cirrus Logic, which would also supply the noise-cancellation smart codec in an also-rumored Lightning-equipped headphone accessory.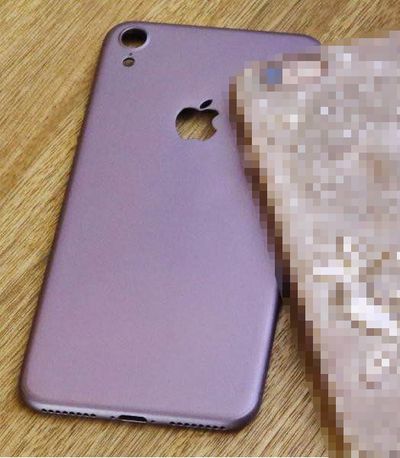 Other more recent rumors based on alleged leaked iPhone 7 blueprints have cast doubt on that claim, showing no second speaker in place of the missing headphone jack and suggesting Apple's evolving iPhone design will continue to have a single speaker setup.
Today's post by serial leaker Steven Hemmerstoffer has therefore thrown a curveball into the rumor mill, with some images apparently taken from a promotional video made by an Italian casemaker, which allegedly received a prototype iPhone 7 case in anticipation of the coming refresh in September.


While the wider lens and lack of horizontal antenna lines are consistent with previous leaks, the appearance of four separate speaker grilles - two at the top and two along the bottom - is a new, albeit sketchy contender.
As Hemmerstoffer himself notes, it doesn't seem viable for a speaker to sit so close to the camera module, unless the reorientation of the camera and LED flash holes from a horizontal alignment across the rear of the handset, to a vertical arrangement running down it, somehow allows for the possibility.
In addition, it's unclear what benefit four speakers would have in such a small profile over one or even two of them. Still, the alleged leak remains an unexpected and therefore interesting development in the continuing iPhone 7 rumor story.


Other, more consistent industry mutterings and leaks suggest Apple's new iPhones will look similar to the iPhone 6 and iPhone 6s series, featuring only minor tweaks to the design such as the horizontal antenna band removal, flush camera, and a thinner Lightning port, while the larger 5.5-inch iPhone 7 Plus model is thought to get exclusivity to a dual-lens camera system and Smart Connector.