Twitter today updated its dedicated Mac app with support for several Twitter features that have previously been available to Twitter users on iOS and the web, including Moments and Polls.
Introduced in October, Moments is a new Twitter tab that's designed to help users discover popular news stories, events, and trending topics, aggregating interesting content into categories like News, Sports, Entertainment, and Fun.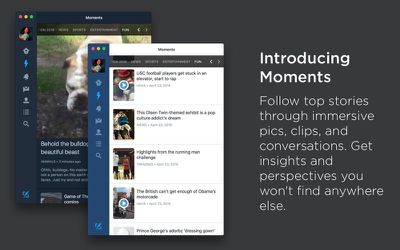 The ability to create custom polls embedded within Tweets was also added in a separate October update, allowing Twitter users to query their followers through multiple choice 24-hour polls.
Along with support for Moments and Polls, Twitter for Mac users can now share GIFs in tweets and Direct Messages through a new GIF search feature.
What's New
- Find the best of Twitter in an instant with Moments. Follow top stories through immersive pics, clips, and conversations. Get insights and perspectives you won't find anywhere else.
- Create polls on Twitter and with just a couple of taps, people can weigh in on all the topics they care about.
- Sharing GIFs in Tweets and Direct Messages is even easier with our new GIF search.
Today's Twitter for Mac update comes five months after a major app overhaul that was introduced in December. The Twitter for Mac 4.0 update introduced a slew of features like inline video playback, group direct messages, mute, a dark theme, and Notification Center widget.
Twitter for Mac can be downloaded from the App Store for free. [Direct Link]