Analyst Claims Redesigned iPhone 5, China-Focused 'iPhone 4-Plus' Coming Soon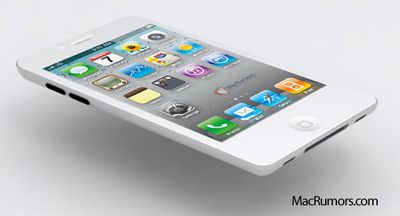 The debate over just what Apple will be introducing for its revamped iPhone lineup over the coming weeks is continuing to rage, and J.P. Morgan analyst Mark Moskowitz has weighed in claiming that the company will indeed be introducing two models: a redesigned iPhone 5 and a cheaper "iPhone 4-plus" focused on the Chinese market but also available elsewhere.
J.P.Morgan's research suggests the iPhone 5 will be based on a lighter, thinner form factor that is GSM and CDMA capable. In other words, a "world-mode" smartphone, but not LTE-capable. Mr. Moskowitz also expects the iPhone 5 will have a larger retina display [than] the iPhone 4′s 3.5 inch screen and include an 8 megapixel camera with LED flash.

The iPhone 4-plus device is anticipated to be based on the current iPhone and subsume the iPhone 3GS as the lower-end offering. Mr. Moskowitz thinks it could target one or more network carriers in China, but is unlikely to be exclusive to the region.
The only concrete evidence of a redesigned iPhone 5 has come in the form of third-party cases based on a claimed leaked design document for the device. Numerous parts for an iPhone 4-like "iPhone 4S" have surfaced over the past several months, leading some to wonder whether Apple will be releasing both models, and if not, which of the two will be the iPhone 5.
Fueling the uncertainty is that fact that some analysts have seen no sign of a redesigned iPhone 5 in Apple's supply chain, while other sources including Moskowitz maintain that Apple will indeed be launching two separate models.