Apple Secretly Pursuing Deep Push Into Original Television Programming
In a longer piece covering the streaming television and video ambitions of Apple, Alibaba, Facebook, and Google, Fast Company suggests Apple is covertly pursuing original television programming deals that would establish it as a major player in the entertainment industry.
Apple is said to be seeking deals with "triple A-list" talent to create a full roster of shows to put it on par with Netflix and Amazon, both of which have successfully launched popular original television shows like House of Cards, Jessica Jones, and Unbreakable Kimmy Schmidt. Sources that spoke to Fast Company say Apple is aiming to run several major shows at once, perhaps as part of a major launch.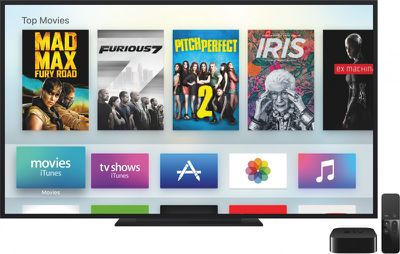 At last year's Sundance Film Festival, Apple created an iTunes Lounge where it hosted private invitation-only events for film makers, producers, and other talent. At the event, described as sleek and understated, attendees said Apple was "definitely talking to the talent." As has been previously rumored, Apple execs also traveled to Los Angeles to hear ideas for original television shows, with Apple's original programming efforts being led by Robert Kondrk, vice president of iTunes Content.
The iTunes Lounge was in fact part of a stealth effort by Apple to establish a new, more active role in delivering entertainment. In the weeks that followed, Apple execs were in Los Angeles hearing pitches for original TV series that it plans to launch on an "exclusives" app on Apple TV and within iTunes. Apple wants to work with "triple A-list" talent, according to a source, and build up a roster of must-see shows available only on its platform. Naturally, the talks have been veiled in the utmost secrecy. Producers who have met with Apple will refer to it only as the United Fruit Company.
Given Apple's positive reputation among creators, Apple has the draw to attract quality talent and the cash reserves to fund high ticket shows. Content creators are said to be "so excited" about the possibility of working with Apple that people are "throwing [ideas] against the wall with them, to every extent possible."
According to five sources who spoke to Fast Company, however, Apple is "disorganized" and "hasn't presented a coherent strategy" for its television plans. The company is reportedly taking a "two-lane" approach to original television programming, producing a series of short films, documentaries, and music videos to promote Apple music while simultaneously developing full Netflix-style original programming.
Apple already has two known television projects in the works. The first, which has not yet been officially announced, is said to be an Apple Music-related project called Vital Signs, which is a dark semi-autobiographical drama starring Beats co-founder and Apple executive Dr. Dre. The second, which was announced in March, is a non-scripted television show that will "spotlight the app economy." Apple is working with Will.i.am, Ben Silverman, and Howard T. Owens on the series.
Alongside the announcement of the the App Store television series, iTunes chief Eddy Cue cautioned the show is not a signal Apple is delving deeper into original television and streaming video, despite rumors to the contrary.
"This doesn't mean that we are going into a huge amount of movie production or TV production or anything like that," Cue said at the time, but he did say Apple would explore similar exclusive projects. Hollywood sources told Fast Company that Apple is approaching its television ambitions with caution and that Cue's statement is "merely tamping down expectations."