Apple Reportedly Exploring Producing Original TV Shows
Apple has been having early discussions with Hollywood executives about producing original video programming in a bid to potentially compete against companies like Netflix, Amazon and Hulu, according to a new report from Variety.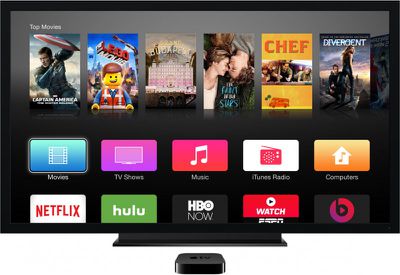 Sources indicate the Cupertino, Calif. colossus has held preliminary conversations in recent weeks with executives in Hollywood to suss out their interest in spearheading efforts to produce entertainment content. The unit putting out the feelers reports into Eddy Cue, who is Apple's point man on all content-related matters, from its negotiations with programmers for Apple TV to its recent faceoff with Taylor Swift.
It's currently unclear how large Apple's ambitions and commitment to producing original video content are, as sources have told Variety contradictory things about the Cupertino company's plans. One source says Apple wants to create development and production departments that could create long-term content like Netflix does with original TV shows and movies. Another source says Apple is "flirting" with the idea, and launched an "unprecedented bid" to sign Top Gear stars Jeremy Clarkson, James May and Richard Hammond when they left the BBC. However, Amazon ended up winning that bidding war.
In recent years, Apple has hired independent film content experts to shore up iTunes Movies' independent offerings with exclusive windows on films and a broader selection of content, including offering movies available for rent before or during their theatrical runs.
More recently, Apple has expanded into original content with its worldwide Beats 1 Radio station and music videos for artists like Drake, Eminem and M.I.A., which are reportedly produced in-house. With Apple's rumored live TV-over-the-internet service coming in 2016, it's likely the Cupertino company could be looking for original and exclusive content to lure customers to its service rather than its competitors.