Ten One Design today announced the "Blockhead," a side-facing plug for Apple chargers that will allow users to place the large wall adapters flush and parallel with a wall to save space, and open up more possibilities for charging behind large furniture. The accessory replaces the detachable prongs that ship with Apple products, and Ten One Design promises Blockhead will fit "every MacBook" and "every iPad" adapter, with one caveat regarding older model iPad minis.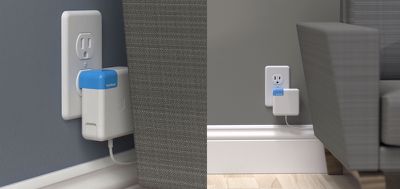 Specifically sculpted to be a companion for Apple's chargers, the company promises that Blockhead will provide a "strong" grip and electrical connection in lieu of using Apple's first party prongs. Thanks to the geometry of the plug's design, Blockhead also points the Apple adapter's plug downwards instead of straight out from a wall, which Ten One Design says "protects against cord stress."
Blockhead directs your cord downward at a more natural angle. It looks great and protects against cord stress. By turning your adapter sideways, Blockhead brings its center of mass closer to the wall. This means less tension on the plug and a lot less falling out.
In comparison to Apple's chargers, the Blockhead plug is 1.2 inches thick, noticeably slashing the thickness of the MacBook wall adapter's required 3.8 inches of space. Thanks to the Blockhead's design, the new plug can also house two adapters on one outlet, or even adjacent plugs on a traditional two-prong extensions cord.


The accessory will work on any Apple charger rated for 10 watts or higher, so it is compatible with all MacBook Air, MacBook Pro, and MacBook models, as well as all iPad models aside from the original iPad mini. Those interested in the Blockhead plug can pre-order the accessory on Ten One Design's website starting today, with shipping estimated to be in "late April." Users will be able to choose between one plug for $19.95 or a "Blockhead Stack" of two plugs for $34.94.