Disney today announced that the newest film in the popular Star Wars saga, Star Wars: The Force Awakens, will be available on iTunes, Disney Movies Anywhere, and other Digital HD sources on Friday, April 1, several days ahead of a planned April 5 Blu-ray and DVD release.
Star Wars: The Force Awakens takes place 30 years after Return of the Jedi, pitting new characters like scavenger Rey and former stormtrooper Finn against Kylo Ren and the First Order. Mark Hamill, Harrison Ford, and Carrie Fisher also reprise their roles as Luke Skywalker, Han Solo, and Princess Leia.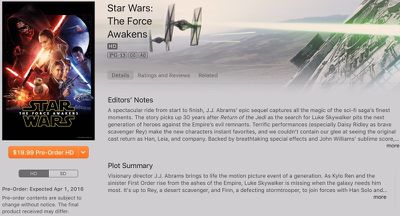 Digital bonus features will vary by retailer, but may include behind-the-scenes interviews and details on the making of the film, the building of the BB-8 droid, deleted scenes, and more. Apple and Disney have not specified which features will be included with the iTunes version of the movie.
- Secrets of The Force Awakens: A Cinematic Journey - For the first time, discover the complete story behind the making of The Force Awakens, revealed through in-depth footage and exclusive interviews with the actors and filmmakers in this feature documentary
- The Story Awakens: The Table Read - Cast members familiar and new reflect on the memorable day they all first came together to read the movie's script
- Building BB-8 - See how the filmmakers brought the newest droid to the screen, creating an instant fan favorite in the Star Wars universe
- Crafting Creatures - Watch movie magic as the filmmakers bring a cast of new creatures to life
- Blueprint of a Battle: The Snow Fight - Go deeper into the epic, climactic lightsaber battle between Rey and Kylo Ren
- John Williams: The Seventh Symphony - The legendary composer shares personal insights of his work on Star Wars and The Force Awakens
- ILM: The Visual Magic of The Force - An insider's look into the remarkable digital artistry of the movie's visual effects.
- Force For Change - Heroes come in all shapes and sizes. See how the Star Wars: Force for Change initiative has united Star Wars fans all over the globe to help others.
Ahead of the release of Star Wars: The Force Awakens, Apple debuted a Star Wars-themed Apple Music radio station, released a digital collection of all Star Wars movies, and promoted the Star Wars: The Force Awakens soundtrack.
Star Wars: The Force Awakens is already available for pre-order from iTunes for $19.99 for HD and $14.99 for SD. [Direct Link]