Back in February, Apple's Worldwide Developer Certificate, designed to verify third-party apps and services, expired, requiring Apple to issue a new certificate for developers to use.
As pointed out by TidBITS (via Ars Technica) a side effect of the replacement of the certificate causes older OS X installers to fail to launch. OS X installation files downloaded from the Mac App Store before February 14, 2016 and stored on a computer or USB drive are no longer functional. This includes installation files for OS X El Capitan and older versions of OS X like Mavericks and Mountain Lion.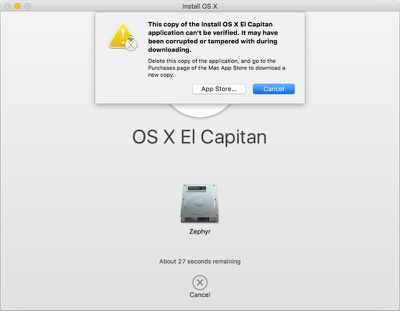 Users who keep OS X installers on hand or have created USB install disks in case of emergencies should replace their files with new versions by re-downloading them through the Mac App Store using purchased history. TidBITS points out that some older versions of OS X, like Lion, will not be downloadable on newer machines. Users who can't replace an expired certificate can still use older installers by changing the dates on their machines.
If you are in the middle of an OS X install and get tripped up by the expired certificate, Randy Singer offers a suggestion on how you can work around the problem quickly, without having to download a new installer:

1. In the OS X Installer, choose Utilities > Terminal.
2. Enter date 0201010116 and press Return.
3. Quit Terminal and continue the install.

That Terminal command sets your system date to 1 February 2016 -- before the certificate's expiration -- so the installer can continue. Once you have completed the installation, visit System Preferences > Date & Time to reset the system date.
Apple's certificate renewal process resulted in some problems for developers and Mac users back in November, as it caused multiple Mac App Store apps to display a "damaged" error and fail to open. Apple quickly addressed the issue and has helped developers transition to the new certificate.