Apple Seeds Fifth Beta of iOS 9.3 to Developers and Public Beta Testers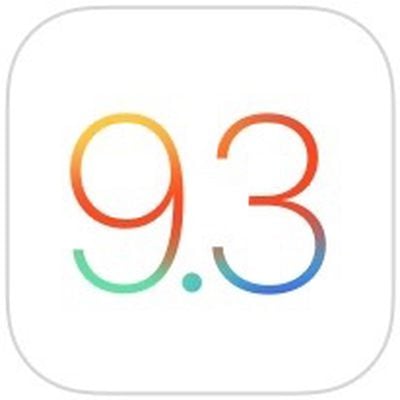 Apple today seeded the fifth beta of an upcoming iOS 9.3 update to developers and public beta testers for testing purposes, just over a week after seeding the fourth iOS 9.3 beta and three months after the public release of iOS 9.2, the last major update to iOS 9. iOS 9.3 has been in testing since January 11.
The fifth iOS 9.3 beta is available as an over-the-air update and through the iOS section of the Apple Developer Center (developers only).
As promised by Apple, today's update restores full navigational functionality to the Apple Pencil. In earlier betas of iOS 9.3, the Apple Pencil has been unable to be used for tasks like selecting text, scrolling, swiping between apps, accessing menus, and general editing functions in non-drawing apps. The feature removal upset many iPad Pro users, leading Apple to confirm that its absence was only temporary.
As a major .1 update to the iOS 9 operating system, iOS 9.3 introduces several new features. There's a Night Shift mode to reduce the amount of blue light iOS users are exposed to in the evening by shifting the iPad or iPhone display to a warmer (yellower) color spectrum, and there are several features designed to improve the iPad for Education program, such as multi-user login. Multi-user login, while an appealing feature, is limited to MDM customers and is not available to the general public.
Multiple
apps and features
are also seeing updates in iOS 9.3. Apple News includes more personalized recommendations, faster updates, a landscape view on the iPhone, and support for in-line video, while Health includes a new Apple Watch-style "Activity" view, Notes has an option to password protect individual entries, and third-party apps can add songs to Apple Music.
Apple Music for CarPlay offers "New" and "For You" sections for better music discovery, and a Nearby Feature in CarPlay Maps offers more information about what's close by. Paired with watchOS 2.2, an iPhone running iOS 9.3 is able to support multiple Apple Watches, and for iPhone 6s users, there are new Quick Actions for Weather, Settings, Compass, Health, App Store, and iTunes Store.
The second iOS 9.3 beta added a Control Center toggle for the Night Shift feature, while the third iOS 9.3 beta focused on fixing bugs and added Verizon Wi-Fi calling.
What's new in iOS 9.3 beta 5
Night Shift Control Center toggle - The Night Shift toggle in the Control Center no longer has a pop up menu with options to "Turn On For Now" or "Turn On Until Tomorrow. The button's function is now simpler, turning Night Shift on and off on demand.