What's New in iOS 9.3: Night Shift, New Quick Actions, Improvements to Apple News, Notes, CarPlay and Health
Apple's iOS 9.2.1 update is still in testing, but that didn't stop the company from surprising us with an iOS 9.3 beta this morning. The iOS 9.3 beta is one of the biggest updates to iOS 9 yet, introducing a new Night Shift feature and improving several existing apps, including Notes, Apple News, Health, CarPlay, and more.
We've gathered up a full list of the changes and new features in iOS 9.3, to give MacRumors readers a clear picture of what they can expect to see when iOS 9.3 is released to the public.
Night Shift
- Night Shift
is a new feature
that's designed to automatically cut down on the amount of blue light an iOS user is exposed to at night by shifting to more yellow tones for the iPhone or iPad's display. Studies have suggested blue light exposure at night can disrupt the circadian rhythm, making it more difficult to fall asleep.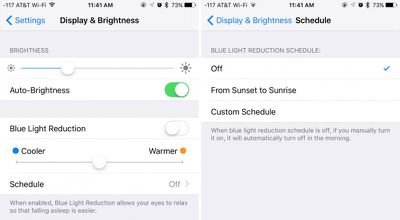 Night Shift settings are available in the "Display & Brightness" section of the Settings app. In this section, there's a new option to toggle on Night Shift and set the display to be Less Warm or More Warm. A Schedule option lets users set a custom schedule or choose to turn on Night Shift from sunset to sunrise.
iOS 9.3 beta 2 included a Night Shift Control Center option, which was refined over the course of the beta testing period. Night Shift is denoted by an icon featuring a moon inside of a sun, and tapping on the icon turns Night Shift on until sunrise or turns it off until sunset. Night Shift does not work with Low Power Mode.


Verizon Wi-Fi Calling - iOS 9.3 includes Wi-Fi calling support for Verizon users, allowing them to place calls over Wi-Fi when cellular connectivity is poor.
iBooks - The purchased tab within the iBooks app has been revamped, including a deeper breakdown of books between different genres. It also now supports audiobooks, and purchased audiobooks are included alongside standard e-books in the "Automatic Download" section of the Settings app.


Quick Actions - On the iPhone 6s and 6s Plus, there are new 3D Touch Quick Actions for several of the stock apps, including Weather, Settings, Compass, and Health. Weather's Quick Actions allow you to see the weather at your current location or for saved locations in the app. Settings includes useful shortcuts for accessing Bluetooth, Wi-Fi, Battery, and Wallpaper options. Health's Quick Actions provide access to the Medical ID or a user's dashboard, while Compass now features options to open directly to the compass or the level.


There are also new Quick Action options for the App Store and iTunes Store apps. For the App Store app, Quick Actions now include "Update All" to update all apps at once from the Home screen, and "Purchased" for opening up to a list of all purchased apps. For the iTunes Store, new options include "View Downloads" and "Purchased."


In the App Store app, there are Peek and Pop gestures that can be used to preview apps from the main App Store view. Using a Peek gesture on an app in the Featured, Top Charts, or Explore section brings up a preview of the app and a full Pop gesture will open the app preview page.
Notes - There's a new option to use Touch ID or a password to protect notes within the Notes app. With this enabled, Notes will ask for either the user's password or a fingerprint when opening Notes that have been protected with a password. Password Protection for Notes can be set on a note-by-note basis within the Notes app. There are also new options in Settings to organize notes by Date Edited, Date Created, or Title.




News - Apple has improved the news app in iOS 9.3 to make it more tailored to each person's interests. The For You section is also incorporating trending topics and specific picks from Apple editors to help users better discover content. Other new features include a new landscape view for News on the iPhone, in-line video playback for videos in news stories, and faster content updating when opening the news app.


Health - In the Health app, when viewing the Weight, Workouts, and Sleep categories, Health now links to apps you can download that will allow you to collect this data. Health also mirrors the Apple Watch move, exercise, and stand data in a new "Activity" interface, and it displays your goals. The new Health features in iOS 9.3 may not be functional yet, as the new interface and the app suggestions were not available on our iOS devices running iOS 9.3.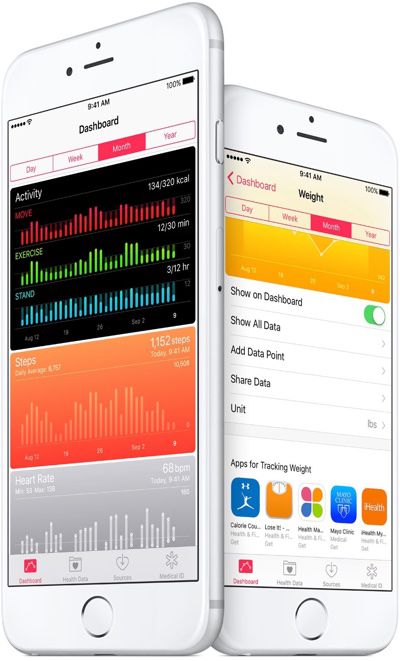 CarPlay - Several CarPlay apps have been updated to bring them in line with iOS apps on iOS 9. The Apple Music CarPlay app now includes New and For You sections for better music discovery, and a Nearby feature in Maps offers better access to information about what's close by, providing suggestions for local gas stations, restaurants, coffee shops, and more.
Alongside iOS 9.3, Apple's also provided a comprehensive list of all the cars in the United States and other countries that offer CarPlay support. Apple's list includes more than 100 2016 and 2017 models from 22 auto manufacturers like Audi, Buick, Cadillac, Chevrolet, Citroën, DS Automobiles, Ferrari, Ford, GMC, Honda, Hyundai, Mercedes-Benz, Mitsubishi, Opel, Porsche, Peugeot, Seat, Škoda, Suzuki, Volkswagen and Volvo.
Education - iOS 9.3 includes multiple Education-oriented features including shared iPads for students, a new Classroom app, an Apple School Manager, and improved Apple ID management features.
Apple Watch - With iOS 9.3 and watchOS 2.2, the iPhone is able to pair with more than one Apple Watch. Both updates are required, with each watch running watchOS 2.2 and the iPhone running iOS 9.3. WatchOS 2.2 was seeded to developers alongside iOS 9.3.


Live Photos - On the iPhone 6s, there's a new option to save a full resolution photo from a Live Photo. When using the Share Sheet, choosing "Duplicate" now gives an option to create a Still Photo duplicate of a Live Photo.


Wallet/Apple Pay - In Wallet and when using Apple Pay, there's now an option to open an app that's linked to a pass or credit card. For example, on a Southwest boarding pass, there's a new icon that will open the Southwest app when tapped.


Siri - Siri has been updated in iOS 9.3 to include the following languages: Malay (Malaysia), Finnish (Finland), and Hebrew (Israel).
App Switcher - iOS 9.3 includes haptic feedback when using the Force Touch app switcher on an iPhone 6s or 6s Plus. "Peek" feedback is provided when first opening the app switcher, and a full "Pop" feedback is given when pressing further to open it fully.