New Education Features in iOS 9.3 Include Shared iPads, New Classroom App and Improved Apple ID Management
With iOS 9.3, Apple is introducing a number of new features that are specifically geared towards the education market. Outlined on a new Education Preview site, education-oriented features in the iOS 9 beta include shared iPads for students, a new classroom app, an Apple School Manager feature, and an improved Managed Apple IDs function.
Apple's new Shared iPad feature is designed for educational systems where a 1:1 student-to-iPad ratio isn't possible. It gives each student an Apple ID that can be used to log into any iPad in the classroom, with all of the student's content readily available on any device. That means students can switch from classroom to classroom, logging into an iPad in each class while the iPad remains in the classroom for all students to use during class time.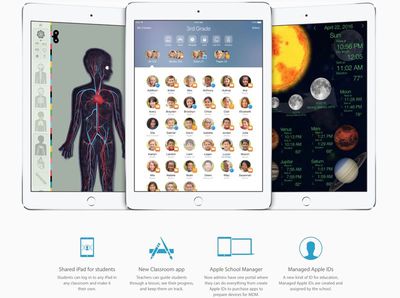 Students have access to all of their apps, books, and documents when logging on, and for a student that uses the same assigned iPad in a class each day, an intelligent caching system keeps all of their content at the ready. Shared iPad uses a photo login system to make it easy for kids to find their assigned iPad, and a PIN system for logging in makes the system easy for younger children.
Along with Shared iPads, there's a new Classroom app. With Classroom, teachers can launch the same app on all student iPads at the same time and guide students through the app. A Screen View feature lets teachers see what's on any student's iPad at any given time, and it allows teachers to lock apps to keep students on task. There's also a feature for helping reset student passwords directly within the classroom app.
Apple School Manager, a web-based feature, is designed to give admins a central location for creating Apple IDs, building courses, and managing accounts for students, teachers, and admins. It allows administrators to make volume purchases of books and apps and distribute the content quickly.
Within the Apple School Manager, there are new tools for Managed Apple IDs, which are Apple IDs created specifically for schools. Managed Apple IDs have all of the functionality of a standard Apple ID, but they allow administrators to reset passwords, audit accounts, and assign customized roles to each ID.
Apple has been working on overhauling its iPad in Education program since early 2015, when a leaked email suggested the company was planning on unifying deployment programs, simplifying app distribution, and updating the way student Apple IDs work.
Apple's new educational features will be available to schools with the launch of iOS 9.3. iOS 9.3 was provided to developers this morning.