The Seiko wristwatch that Steve Jobs wore in the famous 1984 Macintosh photo shoot sold for $42,500 in an online auction on Saturday (via CNET). Consigned by Jobs' former house manager Mark Sheff, the watch's band was said to be "in heavily worn condition," but still managed to draw the interest of 14 bidders and about 5,600 page views before closing out for $42,500.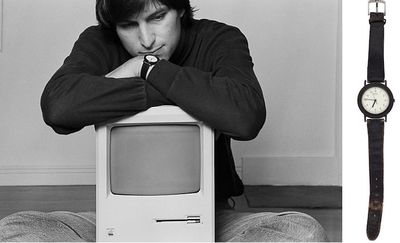 The watch wasn't the only item of Jobs' old artifacts to get sold on the auction, however, with items ranging from his old Birkenstock sandals ($2,750) to one of the former Apple CEO's classic black turtlenecks, this one from his time at NeXT ($7,500). A lot of items, including his NeXT name tag, business card, 10K gold-filled Apple Computers pen, and a personally signed USPS return receipt, all sold for $16,250.
Considering the company's prolific history, many of its products have sold well in reseller's markets over the past few years. In December of 2014, a functioning Apple-1 computer that Jobs himself sold out of his parents' garage in 1976 went for $365,000 at an auction in New York. A few months earlier, the Henry Ford Museum won another Apple-1 computer auction with a record bid of $905,000.