A rare working Apple 1 computer has sold for a record $905,000 at a Bonhams auction in New York, reports Reuters. Estimates suggested the motherboard might fetch between $300,000 and $500,000, but it ended up selling for far more.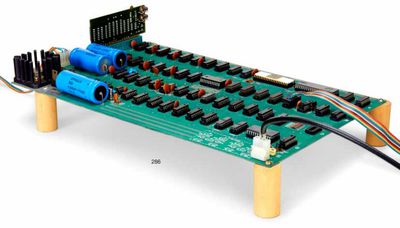 The motherboard is believed to be one of approximately 50 Apple 1 computers that were originally constructed by Apple co-founder Steve Wozniak in Steve Jobs' garage for sale in The Byte Shop. The motherboard is numbered "01-0070."
Few Apple 1 computers survive today, and the one sold at the New York auction has fetched the highest price seen yet. The buyer of the computer remains unknown. Each Apple 1 originally sold for $666.66, and approximately 200 total units were produced.
Last year, two working Apple 1 computers complete with their original cardboard box were sold by German auction house Breker. One of the machines sold for $330,000, while a second fully functional Apple 1 computer sold for $671,400 as it included a letter from Steve Jobs intended for its original owner.
Update: Reuters has updated its article to note that the winning bidder was the Henry Ford Museum.