Leaked 'iPhone 7' Display Backlight Shows Moved 3D Touch and Flex Cables
Taiwanese website Apple.club.tw has shared leaked images of the purported backlight assembly for the "iPhone 7" display. The component draws some similarities to the iPhone 6s and iPhone 6s Plus backlight assembly, although the 3D Touch chip and LCD flex cables are relocated on this leaked part.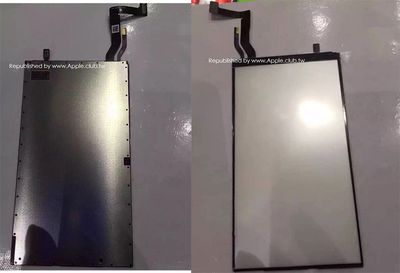 Leaked backlight assembly purportedly for "iPhone 7" display
The website speculates the component could also be for Apple's next-generation 4-inch iPhone, but previous reports have said the much-rumored "
iPhone 6c
" will
not have 3D Touch
. The pictured size of the 3D Touch chip and flex cables also suggests the backlight assembly is designed for larger than a 4-inch display.

iPhone 6s and iPhone 6s Plus backlight assembly for comparison
Apple.club.tw
has accurately leaked or republished multiple Apple products in the past, including the
iPhone 6 protruding camera lens
,
iPhone 6 logic board
and
iPad Air 2 logic board
, but its February 2015 rumor about Apple adding
Touch ID on the MacBook, Magic Mouse and Magic Trackpad
has yet to happen.
Apple may remove the 3.5mm headphone jack on the iPhone 7 and iPhone 7 Plus in favor of an all-in-one Lightning connector, possibly helping the smartphones achieve between 6.0mm and 6.5mm thinness and a waterproof design. The devices may also have a faster TSMC-built A10 chip and non-metallic casing with hidden antenna bands.
iPhone 7 Plus could have 3GB of RAM, 256GB storage and a larger 3,100 mAh battery.