Alleged Schematic Shows Protruding Camera Ring on 4.7-Inch iPhone 6
Throughout the past few months, a number of design drawings, physical mockups, and component leaks have hinted at a protruding camera ring camera on the iPhone 6. Initial rumors indicated that the physical feature would be exclusive to the larger 5.5-inch iPhone 6, however recent photos of the 4.7-inch version's rear shell may indicate that it will also include a protruding camera ring.
Now, an alleged schematic shared by Apple.club.tw (Google Translate, via G for Games) once again shows a protruding camera ring on the back of the 4.7-inch iPhone 6, which is measured at 0.67-0.77 millimeters. The website also claims that the phone will be 7 millimeters thick, which lines up with the most recent leak showing off the device's rear shell and front panel for the first time.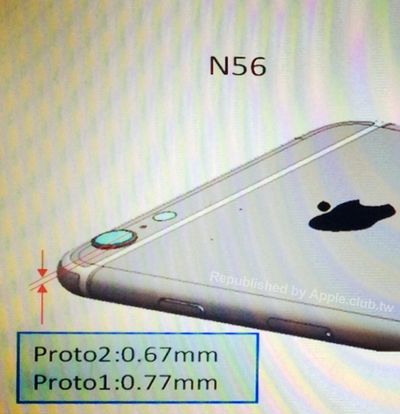 Additionally, it is claimed that the 4.7-inch iPhone 6 has been given a codename of N56, while the 5.5-inch version is known as N61. This is in line with the code names of prior iPhones, as the CDMA version of the iPhone 4 was known as N92. However, no additional evidence suggests that N56 and N61 are the exact code names of both iPhone 6 models.
Apple will unveil the iPhone 6 on September 9, with a launch for the 4.7-inch version likely coming about a week or so after. It is possible that the 5.5-inch model may launch alongside its smaller counterpart, however production issues may push back its release until late next year or 2015.
Both models of the iPhone 6 will likely incorporate a faster A8 processor, a thinner, rounded chassis, and iOS 8. The camera on the iPhone 6 will also be improved, featuring a unified, round dual-LED "True Tone" flash and some form of image stabilization.