Assembled iPhone 6 Logic Board Revealed in New Photo
With under four weeks to go until the expected introduction of the iPhone 6, increasingly complex parts are continuing to leak. Just weeks ago, photos showing two bare logic boards similar to but distinct from corresponding parts from existing iPhones surfaced, lending credence to rumors of two larger iPhone 6 models.
One of those logic boards has now been revealed in what appears to be a fully assembled state in a photo reposted by Apple.club.tw [Google Translate]. While several physical features such as the nano-SIM slot, a number of connectors for flex cable components, and a flash storage chip that appears to be from Toshiba are visible in the somewhat blurry photo, the most interesting components of the board unfortunately remain hidden under electromagnetic shielding. A silver component at the bottom of the board on the left is almost certainly the Wi-Fi module, although no identifiable markings can be seen.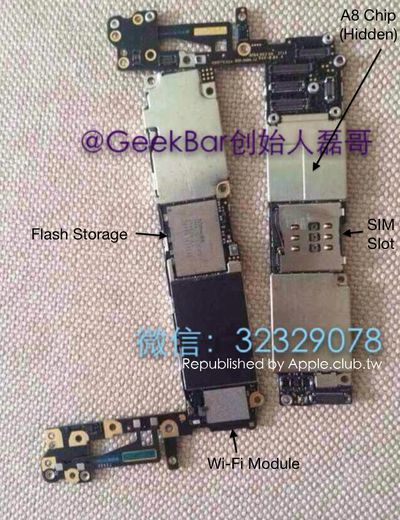 Annotated photo of iPhone 6 logic boards
A
second photo
[
Google Translate
] shared by
Apple.club.tw
today shows a pair of flex cables also said to be from the iPhone 6. The cables appear to be the same as seen in a detailed photo of the
front panel display assembly
yesterday.