Apple Music Available on Sonos Devices Starting December 15
As of December 15, Apple Music will be available on Sonos, allowing those who own Sonos speakers to use them with the Apple Music service for the first time since it launched in June. Sonos and Apple today announced a new Sonos Apple Music public beta that will go live to all Sonos users in approximately two weeks.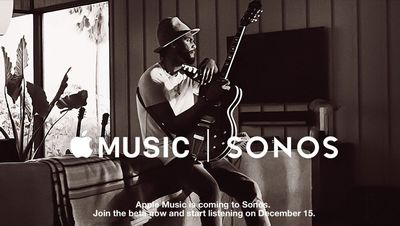 Sonos users will be able to access Apple Music on their Sonos speakers, streaming songs from For You, New, Radio, and My Music. The beta will allow users to access the Apple Music features through their dedicated Sonos apps on iPhone, iPad, iPod touch, Mac, and PC, with full support set to roll out in 2016.
"Many of our members love Sonos and want to enjoy our service throughout their homes," said Eddy Cue, Apple's senior vice president of Internet Software and Services. "We're thrilled to be working with Sonos to provide the Apple Music experience in even more places fans enjoy music."
Since Apple Music launched, Sonos has been working on support for the service, with a promise to have the feature ready to roll out by the end of the year. Beats Music, which did work with Sonos, is shutting down as of today. Sonos has recommended its users move their Beats Music accounts to Apple Music to save their playlists ahead of the rollout of the Apple Music for Sonos beta.