HTC Unveils the One A9, an iPhone Lookalike That Runs the Latest Version of Android
HTC today announced its latest flagship Android smartphone, the HTC One A9. Priced at just $399, the One A9 looks remarkably like an iPhone 6/6s, taking many design cues from Apple's most recent devices.
The A9 has a 5-inch screen with a curved-edge display, so it fits right in between the 4.7-inch iPhone 6s and the 5.5-inch iPhone 6s Plus, and it includes the same antenna bands and a protruding rear camera, both design choices that haven't exactly been universally popular on the iPhone. The aluminum body comes in colors that are similar to the iPhone color lineup, available in Opal Silver and Carbon Gray.
A Topaz Gold shade is available internationally, and a Deep Garnet color will be available later in the year. When it comes to thickness, the A9 One measures in at 7.26mm, putting it on par with the 7.1mm iPhone 6s and 7.3mm iPhone 6s Plus.
The design similarities between the iPhone 6 and the HTC A9 are only external. The A9 runs the latest version of Android, Marshmallow, and it's equipped with a four-core 1.5GHz Snapdragon 617 processor, up to 3GB RAM, and a 13-megapixel rear camera. There's also a 4-megapixel front-facing camera and it ships with up to 32GB of storage that can be expanded to 2TB with a microSD card.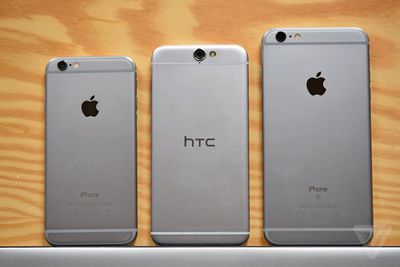 The HTC One A9 compared to the iPhone 6 and 6 Plus, via

The Verge


Like many smartphones available these days, the One A9 has a fingerprint scanner to unlock the phone without a passcode, and it has built-in DAC to convert 16-bit audio to 24-bit high-resolution audio.
HTC is accepting pre-orders for the One A9 on its website. The phone is priced at $399 and is available unlocked.