Popular photo editing app Pixelmator for Mac was today updated to version 3.4, adding full support for Apple's latest operating system, OS X El Capitan. The new version of Pixelmator supports the Split View feature in El Capitan, allowing Pixelmator to be used in full screen mode alongside another app at the same time.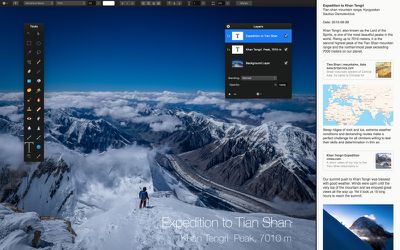 The Pixelmator Photos Extension, which can be used directly within Apple's own Photos app, introduces Metal-based Distort tools for editing images. With these tools, areas of the image can be reshaped in Photos to retouch them or add artistic effects. The extension was built using Apple's powerful graphics-processing technology, Metal.

"Pixelmator always takes advantage of the latest Mac and OS X features and technologies, and today we're thrilled to introduce Pixelmator 3.4 Twist with full support for new OS X El Capitan, the ability to work in Pixelmator and a second app without any distractions via Split View, and a new, Metal-based Pixelmator Photos Extension," said Saulius Dailide, one of the founders of the Pixelmator Team. "Pixelmator Photos Extension features a collection of powerful distort tools, which allow users to distort images with stunning quality and incredible speed right inside the Photos app."
Other improvements added today include Apple's San Francisco font as the new user interface font and enhanced support for the Force Touch trackpad, which is designed to make painting with the trackpad a smoother experience.
Pixelmator can be downloaded from the Mac App Store for $29.99. [Direct Link]