As carriers move away from two-year contracts, and towards financing programs that break down the full price of an iPhone into equal monthly payments, it is worth a reminder that Apple offers partial refunds for unused AppleCare+ coverage, minus the value of any service already provided.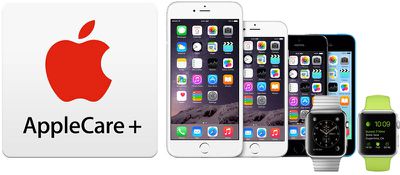 Since many carrier financing programs enable customers to upgrade to a new iPhone after a minimum of 12 months, whereas the AppleCare+ coverage period is 24 months, some customers will inevitably have at least half of their warranty period remaining, for which they are entitled a pro-rated refund.
Macworld recently noted that Apple has a longstanding support document on its website that outlines how to request a refund for an AppleCare plan. The process involves phoning Apple and providing them with your AppleCare agreement number and covered device serial number, and an original sales receipt is often required.
The refund policy may vary depending on the country, but in the U.S., Apple stipulates that customers who cancel their AppleCare+ plan more than 30 days after the date of purchase will receive a pro-rated refund of the original purchase price, minus a cancellation fee of $25 or 10% of the pro-rated amount, whichever is less.
Here is the exact verbiage from the AppleCare+ terms and conditions:
ii) If you cancel more than thirty (30) days after your receipt of this Plan, you will receive a pro rata refund of the original purchase price. The pro rata refund is based on the percentage of unexpired Plan Term from the Plan's date of purchase, less (a) a cancellation fee of twenty-five ($25) dollars or ten percent (10%) of the pro-rata amount, whichever is less, and (b) the value of any service provided to you under the Plan.
AppleCare+ for the iPhone 6s and 6s Plus costs $129. Assuming that you do not make any accidental damage claims, and upgrade your iPhone after 12 months, the plan would have $64.50 in value remaining. After a 10% cancellation charge of $6.45, the refund would be $58.05 — enough for one or two monthly payments on your next iPhone.
AppleCare+ for iPhone extends both the smartphone's limited one-year warranty and 90 days of complimentary phone support to two years from the original date of purchase, and provides up to two incidents of accidental damage coverage for a $79 or $99 service charge each time. It also covers defective hardware and depleted batteries.