Apple's Marc Newson Believes Automotive Design is Lacking Progress
The Wall Street Journal has published an in-depth profile of industrial designer Marc Newson, a longtime friend of Apple design chief Jonathan Ive who joined the Cupertino-based company in September 2014. The interview touches upon a number of topics, ranging from Newson's creative process and design philosophies to his favorite artists and fashion designers.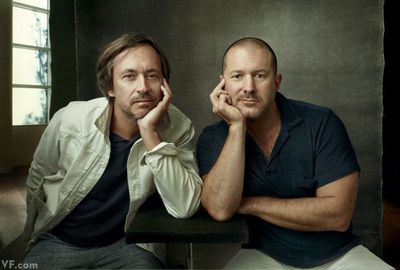 Apple designers Marc Newson (left) and Jonathan Ive (right) via Vanity Fair
Just months after reports claimed Apple is actively researching and developing an
electric
and possibly
self-driving vehicle
, Newson added fuel to those rumors by referring to the automotive industry as one of his design pet-peeves. The designer said that while cars used to encapsulate "everything that was good about progress," the industry is now "at the bottom of a trough."
My design pet-peeve is: the automotive industry. There were moments when cars somehow encapsulated everything that was good about progress. But right now we're at the bottom of a trough.
Newson's comments certainly do not imply that Apple is working on a vehicle, but it is clear that multiple executives at the Cupertino-based company are car enthusiasts. Apple's SVP of Internet Software and Services Eddy Cue joined Ferrari's Board of Directors in November 2012, while Ive has owned several luxury vehicles ranging from Aston Martins and Fiats to Bentleys and Land Rovers.

Jonathan Ive's previous Aston Martin DB9 supercar
The New Yorker
also reflected on how Newson and Ive are "car guys" in February:
He and Newson are car guys, and they feel disappointed with most modern cars; each summer, they attend the Goodwood Festival of Speed, where vintage sports cars are exhibited and raced in the South of England. "There are some shocking cars on the road," Ive said. "One person's car is another person's scenery." To his right was a silver sedan with a jutting lower lip. Ive said, quietly, "For example." As the disgraced car fell behind, I asked Ive to critique its design: "It is baffling, isn't it? It's just nothing, isn't it? It's just insipid." He declined to name the model, muttering, "I don't know, I don't want to offend." (Toyota Echo.)
It was reported in February that Apple has hundreds of employees, including former Tesla, Ford and GM engineers, working on an electric vehicle at a top-secret research lab possibly located in the Sunnyvale area. The much-rumored initiative, known internally as "Project Titan," likely remains in the early stages of research and development, with Bloomberg reporting that Apple hopes to begin production in 2020.