Apple's Automobile Project Said to Include Self-Driving Cars
Following up on yesterday's series of reports about a "top-secret research team" at Apple working on an electric car, Reuters now weighs in with its own source claiming the project involves a self-driving electric car.
Technology giant Apple is learning how to make a self-driving electric car and is talking to experts at carmakers and automotive suppliers, an automotive source familiar with the talks said on Saturday.

The Cupertino, California-based maker of phones, computers and watches is exploring how to make an entire vehicle, not just designing automotive software or individual components, the source said.

"They don't appear to want a lot of help from carmakers," the source, who declined to be named, said.
The source's of claim of self-driving capabilities for the vehicle directly contradicts yesterday's Wall Street Journal report, which specifically stated a self-driving car was not part of the effort. Reuters' source is from the automotive industry rather than at Apple directly, so it is unclear how complete the source's information is.
Apple would not be the only major technology company working on self-driving cars, as Google has been working on such a project for a number of years and has made significant progress in the area. Major car manufacturers are also working hard on technology that would make their cars at least somewhat autonomous.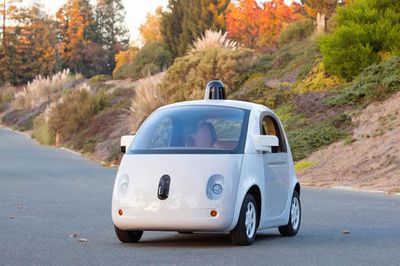 Google's prototype self-driving car
Yesterday's report from
The Wall Street Journal
provided a fair bit of detail on Apple's efforts, noting that Tim Cook approved the project last year. Former Ford engineer and longtime Apple design vice president Steve Zadesky given permission to build a team of up to 1,000 employees largely from within the company to work on the project at a Silicon Valley location separate from Apple's main campus.