Apple Launches 'Why There's Nothing Quite Like iPhone' Web Campaign
Building on a series of recent ads centered around the "If it's not an iPhone, it's not an iPhone" tagline, Apple today rolled out a new web campaign for the iPhone under the theme of "Why there's nothing quite like iPhone."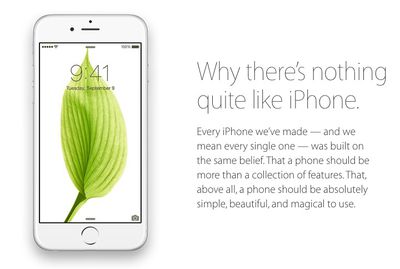 The new campaign is highlighted on Apple's main home page as well as its iPhone pages, and it includes a scrolling feature page drawing attention to a number of aspects of Apple and the iPhone that make the device stand out from its competitors.
Every iPhone we've made — and we mean every single one — was built on the same belief. That a phone should be more than a collection of features. That, above all, a phone should be absolutely simple, beautiful, and magical to use.
The page proceeds to highlight the iPhone's integration of hardware and software, camera capabilities, breadth of available apps, resistance to malware, and Apple's commitment to privacy and security with Touch ID and Apple Pay.


The campaign also highlights how Apple includes a variety of built-in apps and tools to make text, audio, and video messaging free and easy, track fitness and activity, and control devices around the home, all with accessibility features to make the iPhone's features available to as many people as possible. Finally, Apple points to its support network, from its retail stores to AppleCare phone and chat support.