Samsung and TSMC Begin Production of A9 Chips for 'iPhone 6s'
Apple manufacturing partners Samsung and TSMC have started volume production of A9 chips for the so-called "iPhone 6s," according to DigiTimes. The report claims Apple requested last-minute changes to the chip layout, requiring both chipmakers to rework wafers, but the modifications are not expected to impact the release schedule of the next-generation iPhone.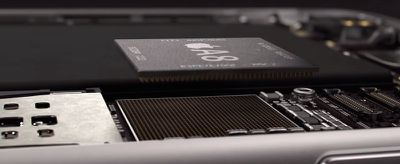 Apple's iPhone 6, iPhone 6 Plus and new iPod touch are powered by the A8 chip
TSMC will reportedly begin mass production of A9 chips based on a 16nm process in the fourth quarter of 2015, and is also expected to manufacture fingerprint sensors and audio chips on a contract basis for future iPhones. Conflicting reports have surfaced over the past several months suggesting that
Samsung
,
TSMC
or a
combination of the two
would be responsible for A9 chip production.
DigiTimes has a mixed track record at reporting on Apple's upcoming plans, but it does have close connections with the overseas supply chain, and A9 chip production in July is reasonable with less than two months until the next iPhone is expected to launch. Apple will reportedly order a record-breaking 85-90 million "iPhone 6s" units from suppliers by the end of 2015.
The much-rumored "iPhone 6s" and "iPhone 6s Plus" are expected to be announced in September and could feature the same 4.7-inch and 5.5-inch screen sizes, an A9 processor with 2GB of RAM, Force Touch, a faster Qualcomm LTE chip, an improved 12-megapixel rear-facing camera and 7000 Series aluminum. The overall design of the smartphones will likely be nearly identical to the iPhone 6 and iPhone 6 Plus.