'iPhone 6s' to Support Faster Download Speeds With Improved Qualcomm LTE Modem
Following a report yesterday that the next-generation "iPhone 6s" will appear essentially identical to the current lineup of iPhones with a few minor internal differences, an unnamed source has shared new photos of logic board from the device with 9to5Mac, revealing an updated Qualcomm LTE chip offering faster LTE speeds and greater energy efficiency.
Specifically, the next iPhone will carry a Qualcomm MDM9635M chip -- also referred to as the "9X35" Gobi modem platform -- and it aims to give the iPhone 6s a significant increase in performance over the current 9X25 used in the iPhone 6 and iPhone 6 Plus.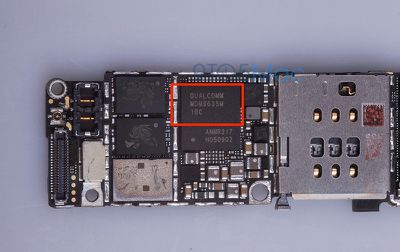 For everyday users, this gives the potential for significant increases in LTE network performance with download speeds of up to 300 Mbps, twice that of the current iPhone line. Real-world limitations of carrier support will, however, limit those speed improvements in many cases.
The new Qualcomm chip, which was announced in 2013 and came to market last year, is also more power efficient. This power efficiency combined with the possibility of a slimmer motherboard could give the iPhone 6s some improvement in battery life this year.
As shared yesterday, the iPhone 6s will appear nearly identical to the iPhone 6, which is typical for Apple's "S" generation iPhones. Apple will, however, be including a number of enhancements for the device, from the faster LTE modem to a Force Touch display and perhaps the "biggest camera jump ever."