Samsung to Produce A9 Chips for Apple's Next-Generation Devices
Longtime Apple rival and supplier Samsung will be responsible for manufacturing the A9 chips for Apple's next-generation iPhone and iPad, Re/code confirmed today. Over the past several months, there's been a lot of confusion over whether Samsung or Taiwan Semiconductor Manufacturing Company (TSMC) would produce Apple's A9 chips, but recent rumors suggest that Samsung's technological advances have put it ahead of TSMC.
Apple signed a chip production deal with TSMC back in 2013 with the hopes of diversifying its supply chain sources and reducing its reliance on Samsung because of ongoing legal battles, but it has been unable to break away from Samsung for its A-series processors. Both TSMC and Samsung produced 20-nanometer A8 and A8X processors for the iPhone 6 and iPhone 6 Plus in 2014, though TSMC handled the bulk of the orders.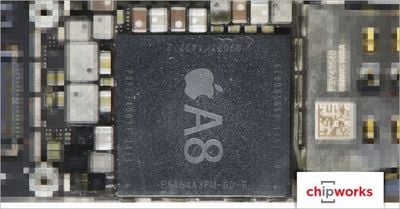 At a time when Samsung's mobile division is seeing profit loss due to flagging sales, the company's semiconductor business has helped to balance out some of the losses with continued growth. During the last quarter, Samsung's chip division earned 2.7 trillion won, making supplier relationships like the one that it has with Apple highly important to the company.
Samsung is reportedly already manufacturing A9 chips for Apple, built on its 14-nanometer chip process that has outpaced TSMC's production capabilities. As detailed by Re/code, the 14-nanometer process will result in smaller chips that use less power.
That's because Samsung holds a technological edge over TSMC when it comes to the latest manufacturing process. Samsung has managed to shrink the size of the transistors on its chips to 14 nanometers -- effectively packing more processing power into a smaller space and consuming less power. TSMC is still at 20 nanometers.
Samsung has not confirmed that it is producing chips for Apple, but Samsung semiconductor president Dr. Kinam Kim said in October that Samsung is expecting chip profits to grow over the coming year thanks to demand for its 14-nanometer chips.
Little is known about Apple's next-generation iPhone, but based on past releases and upgrade cycles, the new smartphones will use A9 chips and may feature updates to the camera. Rumors have also suggested that Apple may be planning to incorporate an A9 chip into its "iPad Pro," which may debut in the second or third quarter of 2015, and the A9 in some form will undoubtedly also make an appearance in 2015 iPad Air/mini upgrades.