First Chevy CarPlay Vehicle, 650-HP Corvette Z06, Heading to Dealers
In late May, General Motors and its Chevrolet brand announced that its first 2016 cars equipped with CarPlay would be available later this year. Less than a month after the announcement, the first Chevy CarPlay vehicle, a silver Corvette Z06, has rolled off the production line. Chevy shared images of the maiden Corvette with TechCrunch, and told the site its Corvette Z06 vehicles are now heading to dealerships and consumers.
Chevy's Corvette Z06 is the second vehicle with CarPlay that's actually available for consumers to purchase, following the Ferarri FF. The Ferarri FF has been the only vehicle sold with built-in CarPlay support since CarPlay was announced in March of 2014, but the service has also been available to consumers through aftermarket solutions from companies like Alpine and Pioneer.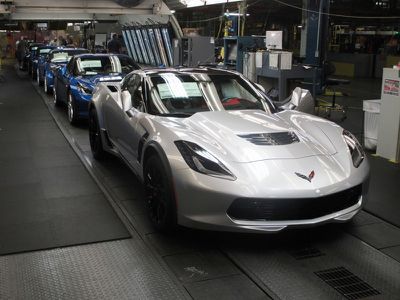 Chevy's very first vehicle with CarPlay support, courtesy of TechCrunch


The 2016 Corvette Z06 has a base MSRP of $79,000 and comes equipped with an 8-inch color touchscreen that uses Chevrolet's MyLink system alongside CarPlay. The Z06 is the most powerful production car that General Motors has created, with 650 horsepower at 6,400 rpm and 650-lb ft of torque at 3,600 rpm.
At Chevy's May CarPlay media event, which MacRumors attended, there was no mention of the Corvette Z06 launching as the first Chevy CarPlay car, with Chevrolet representatives instead pointing towards the Tahoe, Suburban, and Volt as the first CarPlay-equipped vehicles. Those cars are expected to go into production in July, with the rest of the Chevy CarPlay lineup rolling out later in 2015. A full list of Chevy vehicles that will be released with CarPlay support is below.
- 7-inch Screens: Spark, Cruze, Malibu, Camaro, Camaro Convertible, Silverado, Silverado HD
- 8-inch Screens: Cruze, Malibu, Impala, Volt, Camaro, Camaro Convertible, Corvette, Corvette Convertible, Colorado, Silverado, Silverado HD, Tahoe, Suburban
As we learned at Chevy's media event, the first CarPlay vehicles from the company will not include an upcoming iOS 9 feature -- wireless CarPlay support. Chevy's 2016 vehicles will require a user's iPhone to be connected via a Lightning cable. iOS 9 also includes new features that allow it to be more deeply integrated with in-car systems, letting car knobs control CarPlay functions, but it is not clear if Chevy's vehicles will take advantage of this upgrade when Apple's new operating system launches in the fall.
Several other car manufacturers are expected to launch CarPlay-compatible vehicles in 2015. Volkswagen has promised that its first CarPlay vehicles will come in 2015, and at Apple's "Spring Forward" media event in March, Tim Cook said that more than 40 car models with CarPlay support would be available by the end of the year.