New Demo Videos Show CarPlay in Action as Apple VP Greg Joswiak Attends Ferrari Launch
Following yesterday's announcement of Apple's new CarPlay iOS vehicle integration and the release of promotional materials from launch partners Volvo and Mercedes-Benz, more details are arriving today with Apple participating in Ferrari's launch at the Geneva Motor Show.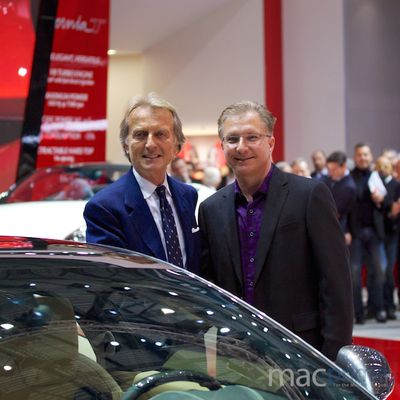 Ferrari chairman Luca di Montezemolo and Apple vice president Greg Joswiak at Ferrari booth
As
shared by macprime.ch
[
Google Translate
], Apple's iOS marketing chief Greg Joswiak joined Ferrari chairman Luca di Montezemolo to introduce CarPlay integration with the Ferrari FF. Apple representatives were also on hand to provide demos of CarPlay, with
Engadget
sharing a
video walkthrough
of CarPlay's features.
The first thing we noticed is how speedy everything is. Apps load quickly, and Siri's contextual algorithms hastily recognized our voice commands and responded appropriately. Apple has also implemented safety features to ensure services do not draw your attention away from the road and push forward its "hands-free" theme. For example, when we sent or received a message from a contact, Siri would only read the message back to us and we never once got the chance to see its contents.
For its part, Mercedes-Benz has released a seven-minute B-roll overview video, shared by iFun.de. While the clips are repetitive and disjointed as they are meant to be edited together for promotional purposes as needed, the video shows how the system can be controlled without directly touching the screen, using a combination of Siri and a physical control knob.
Finally,
Jalopnik
has a
hands-on video
of Volvo's CarPlay implementation. While the video is of fairly poor quality, it does show somewhat better responsiveness than seen in the Ferrari.
Apple has promised new CarPlay-compatible vehicles from a number of manufacturers in 2014, including Ferrari, Honda, Hyundai, Jaguar, Mercedes-Benz, and Volvo, with a dozen other manufacturers signed on as partners with unspecified launch timeframes.