Hands-On With Alpine's iLX-007 In-Dash CarPlay Entertainment System
While car manufacturers have been slower than anticipated to roll out support for Apple's in-vehicle CarPlay system, Pioneer and Alpine have delivered aftermarket options in the form of in-dash systems with CarPlay compatibility and large touch screens.
MacRumors has had a chance to spend some time with Alpine's iLX-007, which carries a suggested retail price of $800 but commonly sells for $600 and offers a 7-inch capacitive touch screen that dominates the unit's front. The only other physical features come as a thin row of buttons along the bottom edge, including a pair for controlling volume, one for activating Siri, one for returning to the Alpine home screen, and another pair serving varying functions such as changing tracks, depending on the app currently in use.
The basic Alpine home screen offers access to only a handful of functions including traditional radio, any peripheral devices connected to the system's auxiliary input including support for a rear back-up camera, and CarPlay devices. Upon connecting the unit's Lightning cable to an iPhone, the CarPlay interface automatically launches, allowing access to the standard Phone, Music, Apps, Messages, and Now Playing apps, as well as any CarPlay-compatible third-party apps the user has installed on his or her device and a Top Menu button to return to Alpine's main home screen.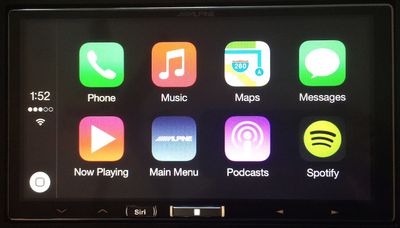 In order to provide support for Siri input, the iLX-007 comes with a microphone that can be mounted in an appropriate location such as the driver's sun visor in order to pick up voice commands. CarPlay-specifc app settings within the main iLX-007 interface include the ability to set microphone level and noise reduction, as well as which speakers Siri's output come through.
With just a narrow row of physical buttons along the bottom of the head unit, Alpine has certainly maximized the available screen space on the iLX-007, squeezing in a 7-inch display that makes it easy to see content. The small physical buttons can, however, be a bit difficult to easily find by touch while keeping eyes on the road. The large icons and other interface elements inside the CarPlay interface itself are easy to hit, although the lack of tactile feedback means at least a glance is probably needed to ensure the correct area of the screen is being touched.


As is to be expected, the CarPlay functionality on the iLX-007 is essentially the same as on other CarPlay systems, several of which have already been reviewed. The simple integration of having much of the phone experience appearing directly on the dashboard display in an easy-to-use format is a welcome addition, although certain aspects of the implementation leave something to be desired.
One fairly significant drawback that appears to be due more to Apple than Alpine is the lack of full support for multi-touch or even fluid scrolling input. While Apple may prefer to limit multi-touch availability in order to potentially reduce driver distraction while pinching or making other gestures that require a more extended glance at the dashboard display, scrolling is a much-needed feature for areas such as lists of contacts, music, and podcasts.


The iLX-007 clearly supports swiping input as seen in its own top-level settings (albeit with somewhat poor responsiveness), but within CarPlay users are essentially relegated to a more cumbersome method of paging through lists. A form of scroll swiping is supported on some lists such as in the Music and Messages apps, but swipes simply serve the same function as page up/down buttons and do not allow for smooth scrolling. Other apps entirely lack what would feel like natural swiping actions. Maps, for example, does not support swiping or pinching to pan or zoom maps.
CarPlay certainly shows a lot of promise, and it will only become more useful as additional third-party apps become compatible with the feature over time. For now, however, a main obstacle is getting CarPlay into users' cars. Despite initial promises of a handful of car manufacturers shipping new vehicles equipped with CarPlay-compatible entertainment systems this year, only Ferrari appears to have met that goal as others have had to push their plans into 2015.
Likely more important to the immediate potential success of CarPlay is the availability of aftermarket products that will allow users to retrofit their existing cars with CarPlay-enabled systems for a few hundred dollars. Alpine and Pioneer have indeed met their goals of launching CarPlay systems for their customers, and for now they are the means by which most consumers will be able to experience CarPlay in their vehicles. These aftermarket systems aren't particularly cheap, but with resellers offering lower-end models in the $450-$600 range, they are within reach of a decent number of consumers.