Apple Appears to Have Acquired GPS Firm Coherent Navigation [Confirmed]
In one of its latest efforts to bolster its mapping capabilities, Apple appears to have acquired Coherent Navigation, a Bay Area GPS-related firm founded in 2008 by engineers from Stanford and Cornell.
One of Coherent Navigation's areas of focus was High Integrity GPS ("iGPS"), a system that combines signals from the traditional mid-earth orbit GPS satellites with those from the low-earth satellites of voice and data provider Iridium to offer greater accuracy and precision, higher signal integrity, and greater jam resistance. Iridium touts iGPS as having the potential to provide location information accurate to within centimeters.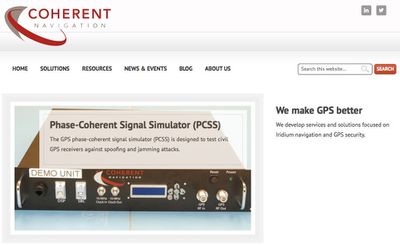 A number of Coherent's key employees recently began working for Apple, including tech veteran and CEO Paul Lego in January and co-founders William Bencze and Brent Ledvina as of last month. Coherent's website has also been taken offline, but on April 30 the name servers for the domain were updated to point to Apple's servers.
It is unclear exactly what the Coherent Navigation team is working on at Apple and whether there was a specific technology Apple was interested in or if it simply wanted to apply the expertise of Coherent's employees to its own projects. Lego simply notes that he is now a member of Apple's Maps team, while Ledvina and Bencze are working in similar location engineering roles.
Coherent Navigation would be just the latest in a long string of mapping-related acquisitions Apple has made over the last several years, including the developers behind Pin Drop, Locationary, WifiSLAM, Hopstop, Embark, and Broadmap. Apple has continued to improve its mapping services since a rough transition away from Google Maps with the release of iOS 6 in 2012, with the company working to add features like transit information and perhaps Street View-like imagery to its services.
Update: Apple has given its standard confirmation statement to The New York Times.
"Apple buys smaller technology companies from time to time, and we generally do not discuss our purpose or plans," the company said.
No other details on the deal have been released.