Rumored 'iPad Pro' Dimensions and Features Again Seen in Renderings
Following a lull in rumors and news circulating Apple's so-called "iPad Pro", most likely due to the launch of the Apple Watch and reported delays in Apple's internal production timeline, a newly shared industrial rendering (via nowhereelse.fr) [Google Translate] of the device once again provides some claims of dimensions for the large-screened iPad.
The industrial rendering, dated December 2014, points to a 12.9-inch screen iPad Pro with dimensions measuring exactly 305.70mm x 222.60mm x 7.20mm, or 12 inches x 8.7 inches x 0.28 inches. These numbers line up closely with those seen in a previously purported design drawings for the device, although they are slightly larger than the earlier ones.
The latest rumor also supports the majority of sources so far pointing to a 12.9-inch display for the iPad Pro. A few sources have suggested it could carry a smaller 12.2-inch display, but they are a small minority at this point.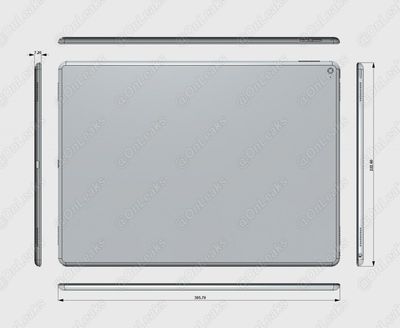 Beyond dimensions, the industrial rendering does appear to support the four top- and bottom-based speakers mentioned in previous rumors, as well as the typical locations for the power button, headphone jack, Lightning port, and volume buttons. As with the iPad Air 2, this iPad Pro design appear to omit a mute switch in favor of a tiny microphone hole near the volume buttons.
Notably, the rendering does not include a port or other feature around the center of the left edge as has been seen in some previous case and mockup leaks. The exact identity of that feature is not clear, with suggestions it could be a SIM tray for cellular models, a second Lightning port for docking accessories in landscape orientation, or even a USB-C port.
Cases for the iPad Pro have begun increasing in quality recently, going from simple plastic molds to complex trifold designs with higher-quality materials, perhaps suggesting more confidence from manufacturers in these rumored designs and schematics.
Regarding its specs, the most recent rumors state the iPad Pro could have a triple-core A8X processor, 2 GB of RAM, and Touch ID, and possibly ship alongside a first-party stylus accessory of some sort. The latest rumblings suggest a production build-up in September with a launch perhaps coming in October alongside Apple's usual iPad lineup refresh.
Update 8:17 AM: Unbox Therapy has shared a new video highlighting cases designed around the rumored iPad Pro design.