Apple May Include USB 3.0 Ports on Upcoming 12.9-Inch 'iPad Pro'
Following up on a report from earlier today claiming Apple has pushed back its plans for the so-called "iPad Pro", asking suppliers to begin production in September rather than this quarter, The Wall Street Journal weighs in with its own claim that Apple is indeed now targeting the second half of this year for the mass production of the device.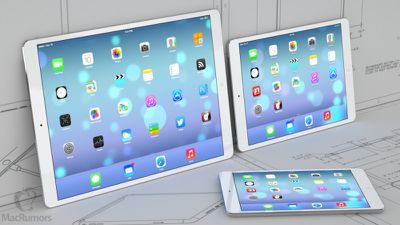 Mockup of iPad Pro, iPad Air, and iPad mini
Beyond timing, the report also claims Apple is still tweaking plans for the iPad Pro's design and feature set, with the company considering including USB 3.0 ports to accommodate data transfer and peripherals connectivity.
"Apple has continued to rework some of the features of the larger iPad. It is now considering the faster technology for data synchronization between the larger iPad and other computing devices," said the person. [..]

The company has also been considering adding ports to connect to a keyboard and mouse, the people said.
Apple is reportedly also looking into ways to speed up charging time for the iPad Pro, as the device will almost certainly come with an even higher-capacity battery than the iPad Air family.
Finally, The Wall Street Journal's sources indicate the iPad Pro's display does indeed measure 12.9 inches diagonally, marking a substantial increase over the iPad Air family's 9.7-inch display. Rumors have been split between 12.9 inches and 12.2 inches for the iPad Pro's display.