'iPad Pro' Cases Increasing in Quality Ahead of Rumored Fall Launch
From design mockups to purported case leaks, the much-rumored "iPad Pro" has been steadily building steam for the past few months. Today, several new cases apparently designed for Apple's iPad Pro have been leaked, and one in particular is far more detailed than any previously released (via SonnyDickson.com).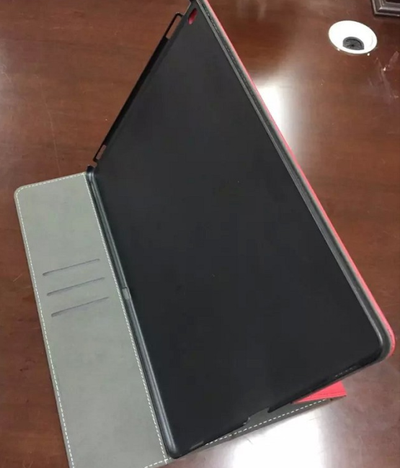 The notable new case leaked today is the first to feature a tri-fold design with a fabric cover, marking a substantial increase in complexity over the simple soft plastic cases seen previously. This increased complexity could be a sign that case manufacturers are increasingly confident in the iPad Pro's design specs and thus willing to invest in more expensive case designs such as this even months ahead of the expected launch.
Recent rumors point towards the iPad Pro's screen measuring between 12.2- and 12.9-inches, with the expected array of cutouts for the volume rockers, back-facing camera, lock button, and a charging port. The newly leaked cases have cutouts for all of these features, including what appear to be speakers at both the top and bottom of the device, in line with previous rumors surrounding the tablet.
The new cases also include the mysterious cutout on the left side of the device. Some previous rumored cases have included the cutout, with rumors variously suggesting it could be for a SIM-card tray on cellular models, a second Lightning port, or perhaps a USB-C port. The Wall Street Journal previously claimed Apple is indeed considering including USB on the iPad Pro.


As is always worth pointing out, these early case designs could still be far off from the actual design of whatever the iPad Pro turns out to be, due to case manufacturers creating molds off of leaked or unsubstantiated design elements. But while there have been some notable misses over the years, case designs have generally proven accurate indicators of upcoming product designs.
The latest rumors peg the iPad Pro as perhaps having a triple-core A8X processor, 2 GB of RAM, Touch ID, and possibly shipping with a first-party Apple manufactured stylus accessory. Release date rumors have fluctuated significantly as Apple as reportedly pushed back its internal timeline several times. The latest rumors suggest production could begin in September, perhaps setting up for an October launch alongside a refresh of the existing iPad lineup.