Apple Predicted to Launch Optional Stylus Accessory Alongside 12.9-Inch 'iPad Pro'
KGI Securities analyst Ming-Chi Kuo is back with another report outlining his belief that Apple will launch a stylus as an optional accessory for the company's rumored 12.9-inch "iPad Pro". With the new iPad's larger screen, it will likely prove popular with enterprise and creative users who tend to have more need for a stylus and Kuo believes Apple will fill that need with an in-house solution.
Given that it's more precise than a person's fingers, a stylus can be more convenient to use than the combination of keyboard and mouse in some cases. Therefore, we believe Apple's stylus will improve the user experience of 12.9-inch iPad.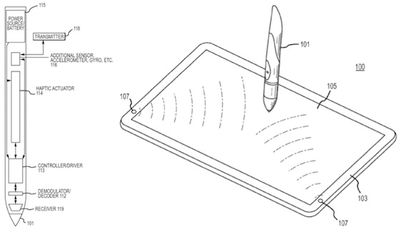 Apple's proposed haptic stylus from a 2010 patent application, not necessarily reflective of the company's current thinking on such a device
Kuo believes the stylus will be an optional accessory rather than included standard with the new iPad, as the relatively expensive stylus would drive the base cost of the iPad too high.
We don't think all users will need a stylus initially. Coupled with its unfavorable cost structure, high selling prices may turn consumers off if the 12.9-inch iPad is always bundled with it. We therefore expect the stylus to be an optional accessory before sufficient user feedback is received.
Looking at technical details of the stylus, Kuo predicts it will charge via a Lightning connector, believing a more convenient wireless charging solution would be too expensive and require difficult antenna design that Apple will likely forego initially. Kuo also believes the initial stylus model will not include a gyroscope accelerometer, but future models could include the component to support "3D handwriting" to allow the user to write on other surfaces or even in the air.
Kuo believes Apple will launch this new stylus in the second or third quarter of this year, roughly the timeframe predicted for the iPad Pro launch. The company has filed for a number of patents related to stylus technology, with the most recently publicized one being a "communicating stylus" that would automatically transcribe handwritten notes into digital form.