12.9-Inch 'iPad Pro' Production Rumored for Q2 2015 Amid Manufacturing Difficulties
Apple's 12.9-inch "iPad Pro" may not enter mass production until the second quarter of 2015, according to new predictions from often-reliable KGI Securities analyst Ming-Chi Kuo. He believes that the iPad Pro will use an oxide panel to achieve a "high resolution, quick response, and high color saturation," and that the time needed for component yield and assembly to improve will push back production until 2Q 2015.
Earlier this year, a report from Bloomberg suggested the iPad Pro might be released in early 2015, but an October report from The Wall Street Journal indicated Apple had delayed its planned December mass production of the tablet in order to focus its attention on producing more iPhone 6 Plus units, leaving a potential iPad Pro release date up in the air.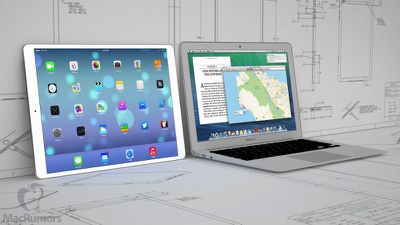 Mockup of 12.9-inch iPad Pro next to 13-inch MacBook Air
Little is known about the iPad Pro aside from its
12.2 to 12.9-inch display size
, which dwarfs the smaller 9.7-inch iPad Air 2 and the 7.9-inch iPad mini 3. Rumors have also suggested that it will offer the same A8X processor introduced with the iPad Air 2 along with an
ultra high resolution display
and a 7mm-thick form factor that's similar to existing iPads.
Kuo's report also focuses on forecasting iPad shipments, which he believes will fall 54.5 percent quarter over quarter to just 9.8 million units during the first calendar quarter of 2015. He points towards the lack of new applications and a saturation of the tablet market as the basis for his prediction.
We believe that, in a major shift, while Apple (US) used to be able to use new form factor designs to boost demand, it has failed to do so this time around. The lighter and thinner iPad Air 2 will face strong headwinds in increasing sales in 1Q15, we believe; we also hold that this means that iPad, along with the entire tablet market, is faced with structural challenges characterized by a lack of new applications and market saturation. We don't think these challenges will be easily overcome by upgraded specs, new form factor designs or lower prices.
Kuo's estimate is rather low, considering Apple sold 16.35 million million iPads during the first calendar quarter of 2014, but iPad sales have been down for the past three quarters in a row. During the fourth fiscal quarter of 2014, Apple sold 12.3 million iPads, down from 14.1 million units in 2013.
According to Apple CEO Tim Cook, the drop in iPad sales is just a "speed bump" that the company will overcome. He told investors earlier this year that "significant innovation can be brought to the iPad," and suggested Apple was working on such improvements. The upcoming 12.9-inch iPad Pro may be Apple's first step towards bolstering its iPad lineup, and the company is also said to be working on new iPad features, like split-screen multitasking.