Apple Delaying Mass Production of 12.9-Inch iPad to Deal with Strong iPhone 6 Plus Demand
Apple and its suppliers are delaying plans to mass produce the larger 12.9-inch iPad in order to deal with strong demand for the iPhone 6 Plus, reports The Wall Street Journal. Apple was originally planning to mass produce the larger tablet in December, however the company has remained unsatisfied with the production output from its suppliers for its larger iPhone.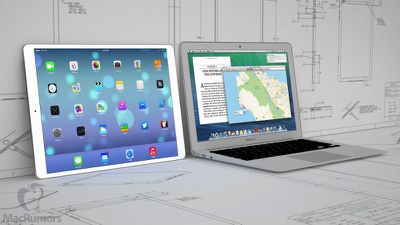 Mockup of a 12.9-inch iPad next to a 13-inch MacBook Air
"The top priority for the supply chain is to meet the overwhelming demand for the larger screen iPhones. The output of the 5.5-inch iPhone 6 Plus remains unsatisfactory," said a person at a supplier. "It would be challenging for display makers to split resources and spend a few months to ramp up production for a new larger screen iPad now."

The report also states that Foxconn is having issues with hiring enough factory workers to assemble the iPhone 6 and the iPhone 6 Plus at its factory in Zhengzhou, China, making it even more difficult to begin production on a new device. Sources told The Wall Street Journal that the 12.9-inch iPad will feature a resolution similar to the current iPad Air's 2048 x 1536 display. Suppliers are also said to be preparing for mass production of the 12-inch MacBook Air in December, which follows similar information from a report yesterday.
A report from Bloomberg in August claimed that Apple would be launching the 12.9-inch iPad in early 2015 after plans for the tablet was put on hold earlier this year. However, that report also noted that the larger iPad would include a high pixel density that nears ultra high-definition quality. The larger tablet was said to be an effort to "shake up the iPad line" as sales of the iPad have been on the decline for the past two quarters.
Apple is expected to unveil the iPad Air 2 and next-generation Retina iPad mini along with new iMacs and perhaps a new Mac Mini at a special event next Thursday, October 16.