Rumored 'iPad Pro' and Companion Stylus Imagined in New Renderings
Following an influx of rumors surrounding the "iPad Pro" and a possible stylus accessory launching around the same time, well-known 3D modeler and designer Martin Hajek has created a series of concept renderings for each device on his blog.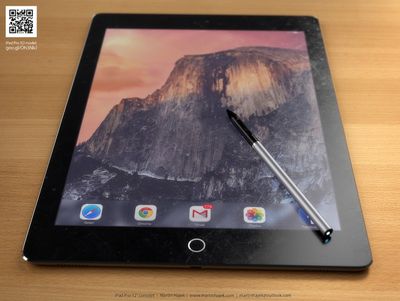 Hajek's models include several details rumored for the iPad Pro, which has been claimed to carry a 12.2 - 12.9 inch display and fall in line with the rounded design of the current iPad Air 2 and iPad Mini 3. The renderings are based on some design drawings that surfaced last November, with Hajek noting the design brings back the larger bezels seen in earlier-generation iPads. Consistent with the schematics and other rumors, he also places speakers on the top and bottom and edges of the device, allowing for stereo sound when used in landscape orientation.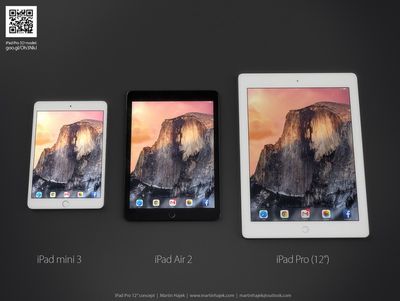 Otherwise, the iPad Pro sticks by most of the current-generation standbys, including volume rockers on the right side of the device, a lock button on the top right, a Lightning charger on its bottom center, and a Touch ID capacitive home button sitting in its normal central position.
Beyond the iPad Pro itself, Hajek also imagines a possibility for Apple's rumored in-house stylus. Borrowing "the design language of the iPad Pro", he added in a capacitive +/- slider for additional operations, and also elements of the Apple Watch as well, including biometric sensors and a digital crown. While the stylus renderings are interesting, a lack of leaks or even specific details about the accessory means the images are not based on any actual information.


The new renderings show off the iPad Pro mostly in the Silver option, though it's likely to receive the other two usual color options of Space Gray and Gold. The latest rumors suggest the iPad Pro may launch sometime in the late spring or early summer of this year. The full suite of renderings featuring the iPad Pro and stylus can be found on Hajek's blog.