iWork for iCloud Beta Apps Now Accessible Without an Apple Device
Apple on Thursday made Pages, Numbers and Keynote accessible to users without an Apple device through iCloud Beta. Starting last night, anyone can sign up for an Apple ID to access the trio of iWork for iCloud beta apps for free. Each account comes with 1GB of complimentary iCloud storage for use with the productivity software.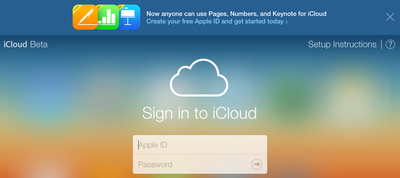 While the offer is currently limited to the iCloud Beta website, it is likely that Apple will rollout the feature to the regular version in the future. To create a free Apple ID account, navigate to iCloud Beta and click on the get started link in the top banner to begin the signup process.
Apple introduced iWork for iCloud at WWDC 2013, bringing Pages, Numbers and Keynote to the web. After receiving "overwhelming response," Apple eventually opened the service to all users a few months later. iWork for iCloud has been steadily improved since then with interactive charts, an updated design, expanded language support and more.