iWork for iCloud Updated With Interactive Charts, Improved Collaborative Capabilities
iWork for iCloud received an update today, adding a range of new features to Pages, Keynote, and Numbers, further boosting the real-time collaboration capabilities of the apps. It is now possible to collaborate with up to 100 people (previous limit was 50) on a single document and users are also able to create 2D and interactive charts in all three apps.
Larger documents, up to 1GB in size, can be edited, and larger images up to 10MB in size can be added to documents. Chart formatting is now available in all three apps, and there are new color options.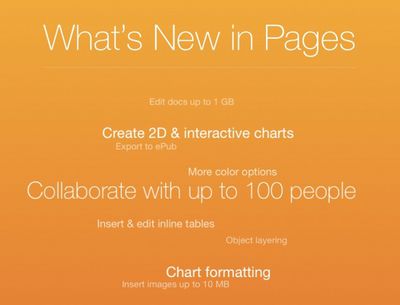 Keynote has also gained the ability to show and hide slide numbers, while Numbers now supports alternating row colors in tables and the ability to export to CSV. Pages supports exporting to ePub, object layering, and inserting and editing inline tables.
The iWork for iCloud software is available to all users for free, and it can be accessed through Apple's iCloud.com website.