Parallels today announced an update to Parallels Desktop 10 for Mac, the company's software for running non-Apple operating systems safely on a Mac. The new update brings "experimental support" for Windows 10 and Office Preview for Windows 10 - including the expected Word, Excel, and PowerPoint programs - into Apple's OS X Yosemite ecosystem.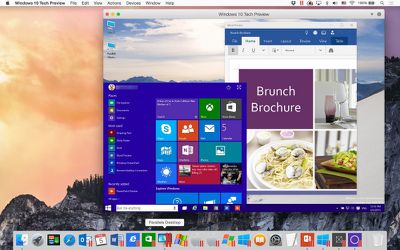 With the update available as a download within the Parallels Desktop app for existing users, the company promises the Mac-based Windows 10 experience will provide users with "everything Windows 10 has to offer." This includes everything from the new Start menu, Photos, Maps app, and Cortana, to the Windows Store beta which offers Office Preview for Windows 10, all available without having to erase the existing functioning operating system.

"Parallels Desktop enjoys very strong support among software developers and IT pros. We are happy to deliver all the tools they need to quickly and safely test or run the latest OS and applications, now including the Windows 10 Technical Preview," said Parallels president Jack Zubarev.
Parallels Desktop 10 for Mac is available to download for $79.99, with a Student Edition coming in at $39.99. Similarly, users upgrading from existing Parallels Desktop versions, like 8 or 9, can get a discount for version 10, with upgrade pricing set at $49.99. A two-week free trial is available to anyone who wants to try out the program's features, including the new technical preview of Windows 10, for a limited time frame.